Greater Midwest Foodways Alliance
FAMILY HEIRLOOM RECIPES
Illinois State Fair
August 11, 2017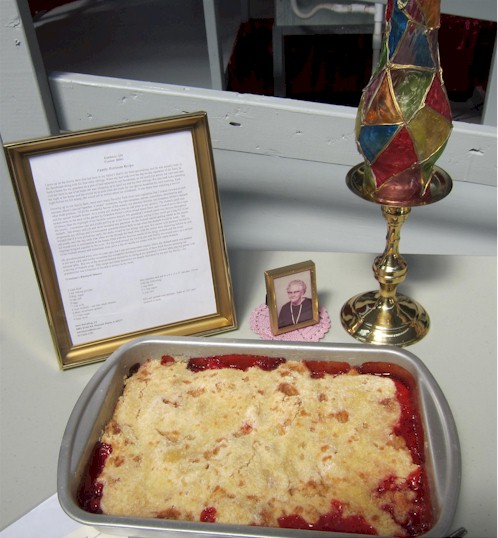 Third Prize
Grandma's Rhubarb Dessert
Amy Wendling, Pleasant Plains, Illinois
I grew up on the family farm that had been in my father's family for three generations, and he was actually born in the farmhouse along with his four other siblings. When my dad took over the day-to-day operation of the farm, he built a house for my grandma on a plot of land adjacent to our farmhouse, so we could run across our vast yard and visit her daily to see what treats she was whipping up to spoil me and my four siblings. We also took turns spending the night at her house and she would let us pick what she made for our special breakfast the next morning. Each night before we fell asleep, she would tell us stories about her childhood. It was better than watching a movie!
Growing up on our family farm, there were many flavorful fresh fruits and vegetables that I looked forward to each summer: Mom's special "peaches 'n cream" sweetcorn, big ripe tomatoes, carrots, cucumbers, strawberries and other fresh produce. Of all the wonderful flavors of the season, my absolute favorite was Grandma Miller's rhubarb and her special rhubarb dessert. As a young girl, rhubarb was an odd plant in my opinion. The rhubarb patch was tucked away in the back of the garden by Grandma Miller's white broad board fence, and it looked more like a type of lettuce, than the highlight of my favorite summer dessert. My grandma's rhubarb patch was famous throughout the county. I remember cars and trucks pulling up to her house and people asking if they could get a bag full of her rhubarb. She always said yes and never accepted any payment. As the rhubarb started getting redder as the season progressed, my siblings and I would pester grandma almost daily to ask when the rhubarb would be ready. She insisted that if it was picked too early, the stalks would be too stringy and sour. We waited with patience limited by our youth, until the day each year when we ran through her back door with the screen door slamming behind us, and we would melt in anticipation as the house filled with the luscious smells of the tangy rhubarb and the sweet toppings mingled together in the oven. We hovered around the cooling pan and finally she would serve up a portion of her rhubarb dessert and sometimes even serve a dip of vanilla ice cream with the still warm rhubarb.
My grandma passed away over 40 years ago, but I can still remember exactly where the rhubarb patch was located in her back yard, and fondly remember the wonderful childhood memories of farm fresh flavors adorning our summer table. But one of the most prominent memories is sitting at my grandma's kitchen table playing games with a serving of rhubarb crisp. This recipe and these memories are deeply cherished by me and my family – my grandmother was a treasure to me and is always in my heart.
Third Prize
Grandma's Rhubarb Dessert
Amy Wendling, Pleasant Plains, Illinois
2 cups flour
3 tsp. baking powder
3 tbsp. sugar
1/4 tsp. salt
2 eggs
1/4 cup milk
6 cups rhubarb – cut into small chunks
2 pkgs. strawberry gelatin
1 1/2 cups sugar
4 tbsp. flour
Mix together and put in a 9 x 13 x 2″ can pan. Cover with the following:
1 cup flour
1 1/2 cup sugar
1/2 cup oleo
Mix and spread over mixture. Bake at 350° until rhubarb is done.