Greater Midwest Foodways Alliance
FAMILY HEIRLOOM RECIPES
Illinois State Fair
August 12, 2016
Third Prize:
Sarah Leonard's Family Fruit Cake
Brazilla A. Leonard, Harvel, Illinois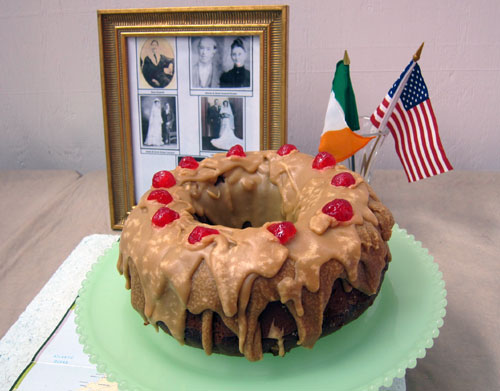 (Image by Peter Engler)
Third Prize:
Sarah Leonard's Family Fruit Cake
Brazilla A. Leonard, Harvel, Illinois
"Fruitcake is sometimes known as the "Great Irish Cake, " the traditional holiday dessert into which every Irish cook sinks her reputation. Spiced, sweet desserts like this cake have been a part of Irish holiday celebrations for centuries and were highly prized because they included spices and dried fruits that were once difficult and expensive to obtain."
Along with thousands of other Americans, my husband's family has always been proud of their Irish heritage. My husband's great-great grandmother, Rosa Knowles Hoysted was a widow during the Great Famine in Ireland. She traveled with her daughter and son to the United States in search of a better life for her family. Her young son died on the voyage and she arrived in New Orleans in February 1851 with her daughter Anna. It is difficult to imagine two women alone in a new country. They did have some friends and neighbors who also were aboard the ship, namely Martin Brown and his brother Daniel. Martin traveled north to Illinois and became a farmer in the Farmersville/Harvel area. He later returned to Ireland and brought back the rest of his family. Their family became farmers in the Farmersville-Harvel, Illinois area where we still live today. Martin and his brothers were among the first in the area to tile the farm fields, using knowledge of the Irish bogs and utilizing teams of oxen and battling snakes. They also helped to establish the St. Isidore Catholic Church and St. Martin's Cemetery.
Martin never forgot the little girl on the ship and found her and Rosa living in St. Louis working in their own dress shop. Martin married Anna and brought them both back to Illinois. Our home and farm has been in the family for five generations and we appreciate the hard work and sacrifice of Rosa Hoysted, Anna and Martin Brown and all the others who made it possible for us to live in the United States and enjoy this country lifestyle.
This recipe has been passed down from each generation to the next with love and fond memories. While not everyone can say they love fruitcake, once they taste "Grandma's", their opinion changes. Not only is it delicious, it evokes memories of family gatherings past. It has always been on the Christmas menu and proudly displayed among all the other "special" holiday foods. If there is a family reunion, someone is sure to bring "the fruitcake" as it is fondly known. My husband's father, Lyle Leonard, served his country during World War II and was gone for four long years. This fruitcake was his favorite dessert and I can imagine that "Grandma Sade" was only too happy to make this for his homecoming.
I hope you will enjoy it and think of the immigrants to this nation and the frontier housewives who used what they had available; farm fresh eggs, hand-churned butter, sour cream from the family cow and the treasured spices, candied fruits and nuts.
I can only assume that sweet fruitcakes were reserved for the most special of occasions and I can think of nothing more special than representing our family in the 2016 Illinois State Fair!
Third Prize:
Sarah Leonard's Family Fruit Cake
Brazilla A. Leonard, Harvel, Illinois
Part I:
1/4 Cup Whjte Sugar
1/4 Cup Brown Sugar
3 TB. Cocoa
1 Cup Boiling Water
1 tsp. Baking Soda
Part II:
1 Cup White Sugar
1/2 Cup Butter
2 Eggs
1 Cup Sour Cream
1/2 Cup Chopped Cooked Prunes & Juice
3 Cups Flour
1 Tsp. Baking Powder
1/2 Cup Candied Cherries
1 Tsp. Nutmeg
1/4 Tsp. Cloves
1 Tsp. Cinnamon
1 Cup Raisins
1 Cup Dates
1 Cup Walnuts
1/2 Cup Fruit Peel
Combine all ingredients in Part I. Set aside to cool. Cream sugar and butter, add eggs and incorporate thoroughly. Alternately add cooled mixture, flour and sour cream. Beat well. Add baking powder, cinnamon, nutmeg, cloves, prunes and juice. Roll raisins, dates, nuts, fruit peel and cherries in flour. Fold into the batter. Pour into tube pan and bake at 325 degrees for 1 1/2 hours. Cool completely.
CARAMEL ICING:
1/4 Cup Brown Sugar
1/4 Cup White Sugar
2 TB5. Butter
1/3 Cup Cream
1 tsp. Vanilla
Combine ingredients into saucepan and cook until mixture reaches softboil stage. Add vanilla and beat. Pour over cake.