Greater Midwest Foodways Alliance
FAMILY HEIRLOOM RECIPES
Picnics and Family Reunions
Illinois State Fair
August 14, 2015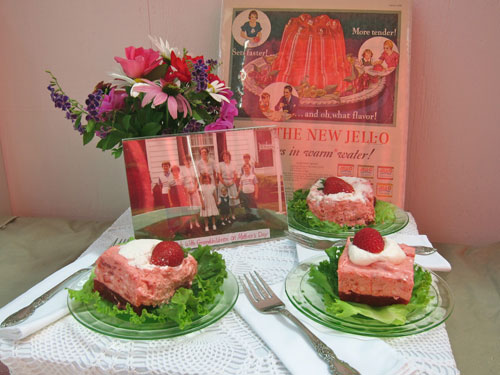 (Image by Peter Engler)
Third Prize:
History of the Mother's Day Rhubarb-Strawberry Salad
Jone Schumacher, Chapin, Illinois
I so fondly remember as a young child trips to our neighbor to help ourselves to their large rhubarb patch. I recall noting how large the leaves were and how pretty the red stems were. It is interesting to note that Ben Franklin is credited for bringing rhubarb seeds to this country in 1772; however, rhubarb was not widely popular until the early 1880's, at which time it was used mostly for making pies and wine. By the mid-1900s it gained popularity that continues to this day. It seems to me in the "Olden days" about every farm-stead had their own patch at the edge of their yard that was adorned with a large patch of rhubarb. I often wonder why my mother did not have a patch of her own, but our neighbors always seemed very happy to share some of their rhubarb. It seems there was always plenty to share. I was amazed when I asked my husband if they had rhubarb in their yard as they lived in town, and he replied they did have a rather large patch. It should then be of no surprise then that this beloved Mother's Day Strawberry-Rhubarb Salad should come from my mother-in-law, Beulah. Actually, this salad was considered the traditional salad Beulah would serve our family for our mother's day lunch when we would gather for the day after attending church together at our country church.
I hesitate to call any meal my mother-in-law, Beulah, served as "lunch" as actually our noon-day meal was always referred to as dinner and her meals were much to elaborate to be tagged as "lunch". I remember as a child watching my mother and grandmother prepare for their ladies club meetings when it was held in their homes as everything was polished and sparkling and the best dishes and table clothes were used. My mother-in-law actually served her family dinners in the same immaculate manner. She would always have a white table cloth (sometimes lace), candle tapers burning, fresh garden flowers for centerpieces, cloth napkins, and glass coasters. I must admit, I'm rather glad the glass coasters have become out of style, because it would be embarrassing when the coaster would accidently stick to the glass bottom when one would take a drink and the coaster would go clanging down on the plate, and there was always concern for the "good china."
Last, but certainly not least was the salad. Many times Beulah would serve these individually and serve on a lettuce leaf on a salad plate placed at each place. I recall Jell-O was very popular for salads and even deserts and I hear folks recalling and being amused with the idea that there never was a church pot-luck without there being at least one green Jell-O salad served. I always thought Jell-O was a rather "modern" food, but actually has quite a history. Charles Knox developed the first pre-granulated gelatin in 1894. In 1895, flavors were added and Pearl B. Watt renamed the desert "Jell-O". In 1902 an advertising company called it
"America.s most favorite Desert." In the early 1900's Ellis Island Immigrants were given a bowl of Jell-O as a "Welcome to America" gift.
This salad is now my family's very favorite salad, one my adult children and their children all like. I anticipate in the future when my grandchildren recall the meals I have served, they wilt certainly recall this salad as this strawberry-rhubarb salad is served so frequently. We no longer call it the Mother's Day Salad since it is for basically all the family meals unless mid­summer when fresh fruit readily available. I have stream-lined the recipe for convenience, and now usually use Cool Whip lite and just stir the whole salad together instead of keeping some plain and the rest mixed with the whipping. Also, I usually double the recipe and put in one of my largest pink depression glass bowl to serve. One of our grandsons had a milk allergy, so I would always keep his separate and not add any whipped product and he would usually devour the amount saved for him while waiting for the rest of his meal! I am pleased that the children all like rhubarb as it is a healthy vegetable with many good nutrients. It amazes me how expensive this vegetable has become in some parts of our country when one considers it was once thought of as a very common farm border plant. I have searched for it in the south and some grocers don't even recognize what I am asking for and when I did locate it, it was priced at $4.95 a pound, which would really surprise some old-time farmers.
I am pleased that we have a large rhubarb patch and I love pulling it in the spring and once again noting how beautiful and large the leaves are. It is such an easy food to prepare and freeze ahead for the winter. I really like searching for other "old-time" recipes to prepare yummy dishes, and I enjoy blending old family heirloom recipes into our family traditional meals.
Third Prize:
Mother's Day Rhubarb-Strawberry Salad
Jone Schumacher, Chapin, Illinois
3 cups fresh or frozen rhubarb, cut into about 1 inch pieces
1/2 cup granulated sugar
1/2 cup water
6 oz. box strawberry Jell-o
1 container (9 or 10 oz.) frozen strawberries with sugar, thawed slightly
1 cup whipping cream, whipped with 2 tablespoons powdered sugar + 1/2 teaspoon vanilla
Optional trim: lettuce leaves, additional whipped cream and fresh strawberries
Combine rhubarb, sugar and water in medium saucepan and cook over medium heat until rhubarb is soft, stirring frequently.
Remove from heat and stir in strawberry Jell-o until dissolved. Cut the strawberry mixture into about 4 large sections and add to the hot
rhubarb mixture. Stir occasionally until strawberries are thawed and well mixed. Pour half of the mixture into an 8 x 8 square glass dish.
Set in refrigerator until almost set. Gently fold the whipped cream into the remaining strawberry-rhubarb mixture and spoon over the
salad in the dish. Return to refrigerator until completely set. Cut into 9 servings. Optional: Serve on lettuce leaf and top with a spoon-full of
whipped cream and top with a fresh strawberry. SERVINGS: 8-10