Greater Midwest Foodways Alliance
FAMILY HEIRLOOM RECIPES
Wisconsin State Fair
August 3, 2014
Second Prize Winner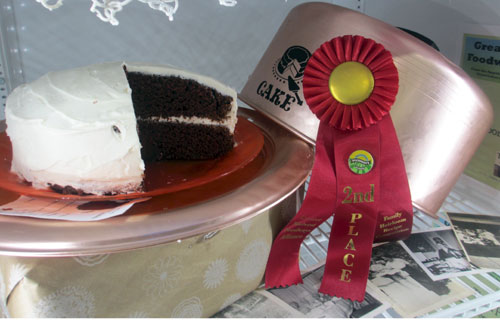 (Image by Catherine Lambrecht)
Second Prize:
Quick Cocoa Cake
Susan Elle, Milwaukee, Wisconsin
Our Quick Cocoa Cake recipe has been a mainstay in our family for generations. My Grandmother made the cake when my mother was a child. My mother made it for me and my siblings when we were growing up. I made it for my kids when they were growing up. The cake is so easy to make and is a no fail recipe. It graced the table for birthdays, special occasions, and even more fun just as a great desert no special event necessary. My grandparents were German decent. My mother was born in Milwaukee in 1912 lived on Lapham Street on the South side. When she married my father joined my grandparents in her childhood home. It was 1937 and depression made things tight. During the war years the cake didn't appear as often due to rationing and was a special treat as a result. My siblings and I joined the family from 1938 to 1950, and we became a three generation family unit. This was an arrangement from which I benefited greatly forging a close bond with my grandfather. While I was never to know my grandmother who passed away before I was born, great memories of her were shared as well as her marvelous cake. Recently my son's long time girlfriend's daughter with whom my son has a close bond is planning her wedding and for her bridal shower a request for a favorite family recipe was made. Our cake recipe won hands down. When my son's girlfriend asked him if he knew which recipe I had selected he replied with no hesitation Quick Cocoa Cake. So by proxy our recipe will pass to a fifth generation. Bake and enjoy.
Second Prize:
Quick Cocoa Cake
Susan Elle, Milwaukee, Wisconsin
6 Tbsp Cocoa
2 cups flour
1 1/2 cups sugar
1 tsp baking soda
2 eggs
3/4 cups butter, melted  (1 1/2 sticks)
1 cup cold water
Sift first four ingredients into mixing bowl. Add the rest but do not stir until all ingredients are in. Then beat well. Bake in two 8 inch greased layer pans. Place a wax paper circle in bottom of each pan for easy removal. Bake in moderate oven 350 degrees for forty minutes. To cool turn out layers on wire cooling rack. Frost with your favorite frosting.
My Favorite Frosting: (this can be used to decorate cake also) Shift powdered sugar before measuring.
3 cups Powdered sugar
1/4 cup butter (1/2 stick at room temperature)
1 cup Crisco
1 1/2 tsp. vanilla extract
Cream Crisco and 1 cup of powdered sugar until smooth. Add 1 cup more of powdered sugar and l/4 cup butter. Cream till light and fluffy. Add last cup of powdered sugar and vanilla. Cream till light and fluffy. Food coloring may be added if desired.