Greater Midwest Foodways Alliance
FAMILY HEIRLOOM RECIPES
South Dakota State Fair
September 1, 2013
Second Prize Winner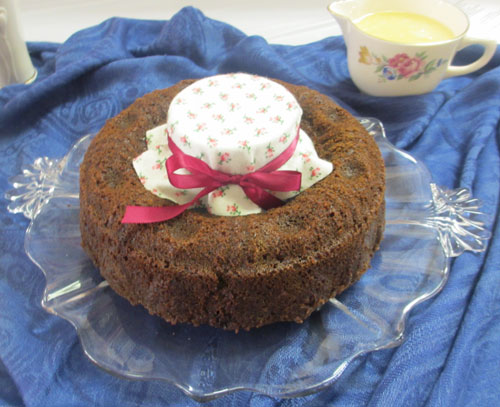 Cranberry Pudding with Butter/Cream Sauce (Image by Catherine Lambrecht)
Second Prize:
Cranberry Pudding with Butter/Cream Sauce
Elaine Bales, Huron, South Dakota
This is a story as rich and sweet in family and tradition as is this recipe.
It begins and comes full circle long before my mother was even born, yet the history and family tradition remain.
In 1839 and 1840 Peter Schmitz and Cecelia Goesert came to this country from their home land in Germany, met and were married in 1844, in Bear Valley Wisconsin.  They had 8 childern, the 5th being Nicholas Peter Schmitz in 1866, my Great Grandfather.
Peter Bissen and Anna Maria Retterath, both born in Germany, came to America as children, grew up in the Midwest, met and married in 1844, and made their home in Johnsburg Minn.  They had 11 children, the oldest, Mary, was my great Grandmother.
Nicholas, Harness Nick is what he was called by everyone, worked for many farmers and harness shops in a 3 state region begining at the age of 15. In 1892, he moved to Adams Mn. There, he met and married Mary Bissen in 1893.
The fourth generation of Schmitz still own and operate the family business and still live on the homestead.
Harness Nick and Mary had 10 children. The 3rd Louise, born in 1897 and the 4th Rudolph, my Grandfather in 1899.
OK history in place, now on to the story.
Everyone in town knew Harness Nick and Mary.
Nick being a successful business man, and Mary, mother of 10, an excellent cook.
Their kitchen table was 8 feet around enough room for everyone but, the small children could not reach, so Nick made lazy susan, making it convienient for all.
One important task Nick was in charge of, was keeping Mary's hatchet sharp, whereas Mary chopped her own ffirewood for cooking.  She was quite particular about the kind and size, for she knew precisly what she wanted for each dish or dessert.
Her woodshed was her domain, and if a child inadvertantly opened that shed door, she would come running, hollering in German,sending the child off to play.
Mary was well known for her cullinary skills. My Uncle, fondly remembers her cooking.  His favorite was Rabbit in White Gravy served over fresh hot Biscuits.  He often had to run to the neighbors dairy to get cream for the gravy.
Louis, their third child met Johnny Krupp, from Bear Valley Wisconsin. They were married in 1913. The Krupp family raised cranberries, and every harvest Mary received crates of fresh cranberries.
It is unsure if this recipe was an early family favorite, if it was shared by the Krupp family, or was created because of an abundance of cranberries.
It came from Great Great Grandma Mary's recipe box and has been handed down four generations, and is still being
made on holidays and special occasions.
Where ever its origins, it is at least 100 years old,
Today I am sharing this, one of many Heirloom recipes, given to me from my grandmother as a wedding gift.
Cranberry Pudding with Butter /Cream Sauce; it is clearly the first choice of many family members.
Because this recipe comes from a simpler time it is quite simple. Mix a few ingredients, fold in whole cranberries and steam for 3 hours.
It can be steamed in a ring/mold or a quart can. Make the cream sauce, serve warm or cold.
I have given this as a gift at Christmas time, steamed it in a ring and placed a jar of the cream sauce with pretty fabric and ribbon over the lid.
This is one of those special occasion recipies you just can't wait for.
So rich and sweet you can taste 100 years of LOVE!!!
Second Prize:
Cranberry Pudding with Butter/Cream Sauce
Elaine Bales, Huron, South Dakota
1/2 cup molasses
1/2 cup boiling water
1 1/2 cup flour
1 teaspoon soda
1 teaspoon baking powder
1/4 teaspoon salt
1 cup whole cranberries
mix 1st six ingredients,
dredge cranberries in flour, and fold in.
place in a quart can and steam in a large covered kettle for 3 hours
Butter Cream Sauce
1 cup sugar
1/2 cup butter
1/2 cup cream
Heat, stirring constantly until sugar is dissolved.
Pour hot butter/cream over pudding
good in cold weather–rich
christmas and holiday dessert
very nice gift–decorate tin and jar of sauce (can be steamed in a ring mold as well )
Premiums sponsored in partnership with Feedstuffs FoodLink.com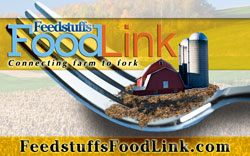 Pampered Chef is sponsoring additional prizes for our winners