Greater Midwest Foodways Alliance
FAMILY HEIRLOOM RECIPES
Missouri State Fair
August 10, 2013
Second Prize Winner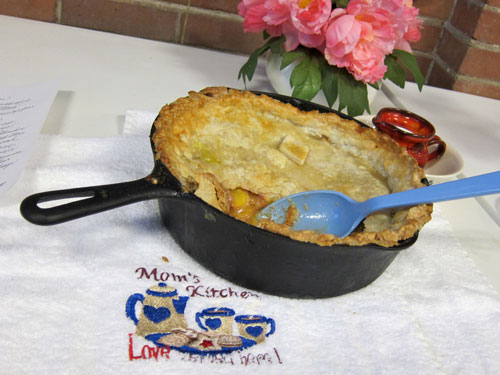 (Image by Peter Engler)
Second Prize:
Heavenly Peach Cobbler
Maxine Griggs, Sedalia, Missouri
When I think of the wonderful things I baked with my "Mom."  I think of August being a time of year when peaches were available.
We lived in the rural area of Rettis County and a young orphaned young man would bring my "Mom" peaches and ask her to make a cobbler of them.  "Mom" and I cooked and baked on a wood cook stove and she would always say, He's such a nice boy, I'll bake him a cobbler and us one.  I peeled the peaches and she made the crust and put them to bake in a "black skillet."  She always made a second and used the only pie pan we owned for the young boy.  "Mom" could never turn down a hungry person.  Today, I know she bakes pies in "heaven."
Second Prize:
Heavenly Peach Cobbler
Maxine Griggs, Sedalia, Missouri
(Filling)
6 ½ cups sliced peaches
¾ cup white sugar
¾ cup brown sugar or honey
1 tsp cinnamon
1 tsp nutmeg
1 tsp salt
½ c corn starch or flour
3 tbs butter
(crust)
3 c flour
1 tsp salt
1 tbs sugar
*1/4 c lard
1 c cold butter
Ice water to moisten
(1 egg beaten, 2 tsp water)
Wash for top of cobbler
In a mixing bowl, cut butter in pea size pieces into flour, salt, sugar &, mix until all I sandy condition.  Add water to slowly & mix.  Let rest 30 min & roll bottom crust.
Mix peaches, sugar, flour, salt & spices, pl
Stir until all is well mixed.
Add a little water, pouring into a iron skillet on bottom crust.  Dot with butter.
Place a top crust with vent holes and brush egg wash – use scrap to decorate.
Premiums sponsored in partnership with Feedstuffs FoodLink.com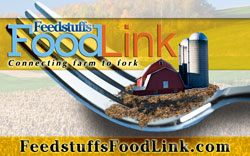 Pampered Chef is sponsoring additional prizes for our winners.