Greater Midwest Foodways Alliance
FAMILY HEIRLOOM RECIPES
Family Favorites Never Served to Guests
(or whatever you like)
Minnesota State Fair
August 22,  2015
Second Prize Winner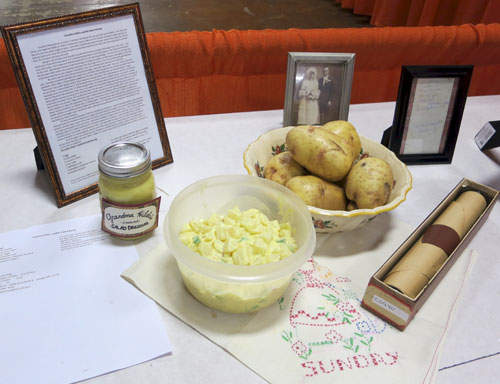 (Image by Russ Cheatham)
Second Prize:
Grandma Hilda's Cooked Salad Dressing
Lois L. Jennings, Savage, Minnesota
Grandma Hilda grew up on a farm in southern Minnesota the only girl with seven brothers.  She married a farmer and raised her family on farm in Watonwan County.  Mom and her brother and sisters spoke German on the farm, but they spoke English in town. I remember Grandma praying the German several times each day. By the time my sisters and I were born Grandma and Grandpa had moved to town and Uncle Del continue to work the farm. His son Steve still farms the land.
Going to visit Grandma and Grandpa started with the trip to southern Minnesota from "the Cities."  We drove past a horse farm that was at 113th and Normandale Blvd in south Bloomington.  The horse farm had their own water tower.  Then it was over the Minnesota River on the old Savage Bridge – one lane for cars and one lane for the train.  My little girl memory recalls that bridge as being very rickety and there was a stop light on each end for one way traffic control.  On south we would pass the Jolly Green Giant in Le Sueur and then through Mankato which fascinated me as I was a big fan of the Betsy, Tacy and Tib book series which was set in Mankato.
My sisters and my visits with Grandma and Grandpa – day were spent with "dress up" clothes from the attic. Grandpa turned the tool shed into a play house and there were tea parties with a pretty lace table cloth and grandmas coffee cake, or fresh picked raspberries with real cream from the farm, or rhubarb dipped in sugar.  There were daily walks uptown where Uncle David was the postmaster. We could barely see over the counter but we would "is Uncle David here?" and he would come up to the counter and give each of us a quarter and we go across the street to the "V" store and get candy. The whistle blew at noon hour and again at 5 pm for the end of the work day. There was town pool and it being the sixties and small town America we could safely walk by ourselves to the pool for the afternoon. We also spent a lot of time at the town park across the street from Grandma's house. We could pretty much wander around town and if people didn't know who we were we just to saw we were "Dick and Verna's girls" and everyone would know who we belonged to and who we were related to in town (the postmaster, the librarians, both of the nurses at the doctor's office.) Grandma was always sewing clothes for our Barbie dolls or making quilts. Evenings were spent playing King around the Corner or double solitaire, or watching Lawrence Welk and Hee Haw on TV. Grandma and Grandpa has a player piano and would the paper music rolls on the rollers and stand around the piano and sing How Great thou Art and Red Wing and other favorites.
We have the same memories of the old standards at meal time – roast & mashed potatoes with lime jello with pear halves & maraschino cherries or orange jello with mandarin oranges, macaroni hot dish with hamburger & home canned tomato sauce. And at each meal there was Grandmas homemade bread. I don't think Grandma ever had store bought bread in her house. Dad loved Grandmas bread & when my sisters & I were in our late teens. Dave gave each of us large bread bowls for Christmas because he wanted us to make bread for him – no bread machine bread – homemade, hand kneaded bread. I still remember the big smile on his face because he was so proud of the gifts he had handpicked. And of course there was Grandma's homemade jelly to top the bread!
But the recipe I am submitting is for Grandma's cooked salad dressing for potato salad. It is my favorite salad dressing to this day. When I make it it's hard to stop myself from eating it plain so there is enough left to mix with the potatoes!
Second Prize:
Grandma Hilda's Cooked Salad Dressing
Lois L. Jennings, Savage, Minnesota
3 eggs
½ cup vinegar
½ cup sour cream
½ cup sugar
1 tablespoon salt
1 tablespoon prepared mustard
¼ teaspoon pepper
In a sauce pan lightly beat the eggs to combine the egg yolks and whites.  Add all the remaining ingredients and cook over medium heat until the sauce thickens.
Combine the cooked salad dressing with cooked potatoes and your choice of fresh veggies for a deliciously fresh potato salad.