Greater Midwest Foodways Alliance
FAMILY HEIRLOOM RECIPES
Picnics and Family Reunions
Minnesota State Fair
August 17, 2014
Second Prize Winner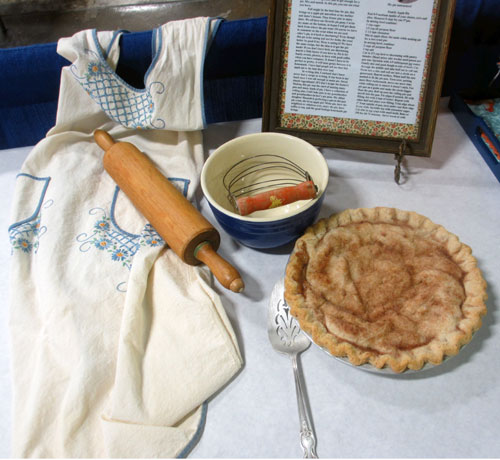 (Image by Catherine Lambrecht)
Second Prize:
Family Apple Pie
April Weinreich, Wahkon, Minnesota
Our family has always made apple pie.   My grandmother Thordis Hicks passed the recipe on to my mother, Kathy Munkelwitz. This is a humble pie. The apples might be Paula Red, Jonathon, Rome, Braburn from the store, if apples aren't in season. Windfall apples from the neighbor, apples from my great aunt and uncle, who grew a variety of apples, and from the tree by my hayshed. I don't know what kind they are, but make my favorite apple pie! My sisters and mother have their favorites, I have used any apples in my refrigerator just to get enough for a pie. Mix and match. In this pie, you can use what you have.
Fall might be the best time for pie, this brings on a apple pie marathon at my mother and sister's houses. They freeze pies to enjoy later. We all have our favorite pie pans, I write my name on the bottom, in hopes I will get them back from where the pie went. Of course we have to comment on the crust when we eat each other's pie, is it lard or shortening? Even though this pie is for eating and not for looks, the crust better be good if my Mom is eating it! We have the same recipe, but the idea is to get the pie made! If you don't have lard, use shortening, maybe a little butter if you have to. Pie is for family events, picnics, to have with good coffee when you have company. It doesn't have to be perfect or pretty, it will taste great, because it is homemade. I have had people tell me that this apple pie is the best they ever had.
In writing this, I realized that I have never had a recipe in writing. It has been in my head since I was old enough to make pie. Seven simple ingredients! (If I don't forget the butter!) Making this pie was the start of making many pies and many kinds of pie, I have a collection of rolling pins, I still bake pies in my grandmother and grandmother-in-Iaw's pie pans. My oldest daughter Hannah is perfecting a pat-in-the-pan pie crust, she loves apple pie! Make pie, have the neighbors or relatives over, enjoy the pie, have coffee or tea, and the good feelings homemade pie brings.
Second Prize:
Family Apple Pie
April Weinreich, Wahkon, Minnesota
Peel 8-9 medium apples of your choice, core and slice. Measure 8 cups for one 9″ pie.
In mixing bowl combine:
1 cup sugar
1/3 cup all purpose flour
1 1/2 tsps cinnamon
Mix in apple slices. Set aside while making pie for a two crust pie:
In mixing bowl, combine:
2 cups all purpose flour
1 tsp salt
Cut in 2/3 cup lard or shortening with pastry blender (Hand mixer also works) until pieces are pea size. Sprinkle with 4-5 tablespoons ice water. Gently mix and push dough to side of bowl. Cut through the middle and take half out to roll out. Form into a disc and roll out into a circle on a generously floured surface. When half the size needed to fit the pie pan. Turn over, putting more flour underneath, move one more time while rolling out to ensure it doesn't stick. Use pie pan as a guide and make the circle bigger than the pan, Roll up onto the rolling pin and unroll into the pan. Fix edges if needed, fill with filling, dot with 2 tsps of butter. Repeat with other half and place over filling. Trim edge about I" from outside of pan, turn under and flute edge if you wish. Sprinkle top with cinnamon sugar. Cut slits in top crust with small knife. Bake at 350 for 60-70 minutes. Serve warm or cold