Greater Midwest Foodways Alliance
FAMILY HEIRLOOM RECIPES
Picnics and Family Reunions
Indiana State Fair
August 7, 2014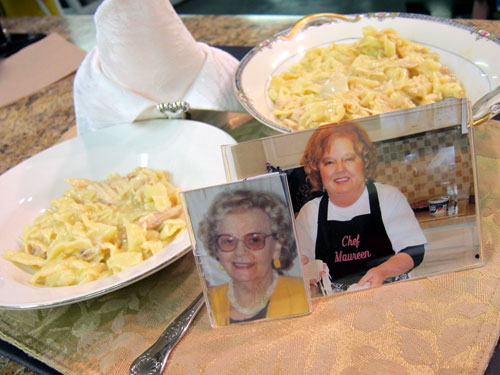 (Image by Peter Engler)
Second Prize:
MINNIE MOM AND GRANDMA STELLA'S CHICKEN & NOODLES
Maureen May, McCordsville, IN
Noodles are pretty amazing. They are made from eggs and flour and yet every family's noodles have their own unique taste and texture. Most families think their noodles are the best. I am no exception. My great great grandmother (grandma Idy) taught her daughter (Minnie Mom) who taught her daughter (grandma Stella) who taught her daughter (Helen, my mother) and since I lived with my grandma Stella when I was a teenager she also taught me to make these wonderful noodles.
My memory only goes back as far as my great grandmother ("Minnie Mom") as far as remembering her making noodles. I still remember her rolling them out on the table and letting them dry before cutting them into long thin strips. My mouth would water just thinking about having them for dinner that night. Since this noodle recipe as well as the technique that was used to make the noodles goes back so many generations, grandma Stella was very insistent that I learn how to make them "the correct family way". She began teaching me at the age of 15. I wish I could say I was a quick learner but making noodles is not easy and often I found my dough was not the texture it should be and would become very frustrated. I can still hear Granma tell me to make a well in my flour and then to put the beaten eggs (usually 4 eggs) in the well and then begin folding in the flour gently until the eggs had absorbed most of the flour. This took a long time for me and that wasn't counting the kneading ofthe dough. As a young teenager, I didn't have the patience. Well into my twenties I was still struggling with getting a consistent dough each time I would attempt to make noodles. I was probably forty years old before I "got it right" every time!
Noodles Have always been served at our family gatherings for as long as I can remember and there are NEVER leftovers! Our family loves noodles. Sometimes I would get hungry for them and call my grandmother and ask her to make them for me and she would always do it. She made them until she was well into her eighties and then told me it was time for me to take over the making of the noodles for family gatherings. So, I worked really hard at perfecting her recipe. I have 3 grown children and seven grandchildren, all who beg me to make noodles for them and they are served at every family gathering and every holiday and there are seldom any leftovers.
Now, when I make these noodles, I fondly remember my grandma Stella and great grandma "Minnie Mom". It warms my heart to know that I am serving a bit of family history every time they are placed on our table. I am so glad I mastered the family recipe and now I am teaching my daughters, my son and my grandchildren the art of making our family recipe of Noodles!
Second Prize:
MINNIE MOM AND GRANDMA STELLA'S CHICKEN & NOODLES
Maureen May, McCordsville, IN
NOODLE INGREDIENTS:
4 cups of Flour
6 eggs
CHICKEN & BROTH INGREDIENTS:
1 whole chicken fryer
1 large can of chicken broth
2 T Chicken base (I use Essenhaus)
1 level T salt
DIRECTIONS:
I suggest wearing Kitchen Gloves when making noodles.
Add 5 cups of flour In a medium to large bowl that is narrow at the bottom and wider at the top. Make a "well" in the flour almost to the bottom of the bowl.
Pour the 6 beaten eggs into the well. Begin to stir and fold flour into the eggs gently and gradually until the eggs have absorbed as much of the flour as they can by stirring with a fork. At this point break the soft sticky dough into three sections.
Spread some of the flour from the bowl onto clean countertop. Knead each section with flour until it is not sticky. Spread more flour onto countertop and roll out each section of dough with rolling pin. Be sure to spread a little flour on top of the dough and turn dough often as you roll it out until it is almost paper thin. At this point spread some flour onto dough and roll it up into a long roll.
Slice roll very thin and with hands begin to lift dough unrolling the slices into long noodles. Spread the noodles on the counter to dry, turning them occasionally. I let mine dry about 3 hours before cooking.
CHICKEN & BROTH DIRECTIONS
Lightly salt cavity of fryer. Place fryer in crockpot. Add the large can of Chicken Broth and the 2 T Chicken Base. Cover and cook on low until chicken is done and very tender (about 4-5 hours depending on your crock pot). Debone chicken and set aside. Strain broth and put in 4 quart pot on medium heat. Add dried noodles and stir often. Cook about 10 minutes and add chicken. Cook another 5 minutes and serve. ENJOY!