Greater Midwest Foodways Alliance
FAMILY HEIRLOOM RECIPES
Illinois State Fair
August 11, 2017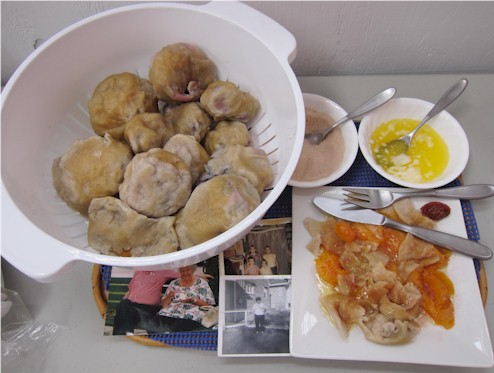 Second Prize
Fruit Dumplings
Svestkove Knedlicky
Linda D. Cifuentes, Mohamet, Illinois
Summer for most kids meant no school, vacations, and swimming. As that was true for us kids, summer also meant fruit dumpling. My mom only made these dumplings in the summer primarily because stone fruit is used and summertime is when the fruit was fresh and less expensive. She only made them a couple of times throughout the summer and I think that is because they are a bit time consuming to make.
I remember my mom lining up all the apricots, plums, peaches, and cherries after she washed and dried them. Then came the big task; making the dough. She would mix up the dough in the pot and once the dough was made she would flour up her board and her hands. She rolled out the dough and then cut it into pieces and wrapped around each of the fruit (3 cherries to one dumpling). After all the dumplings were made they were placed in a huge pot of boiling water.
Once my dad got home from work, we all sat down at the kitchen table and the feast and games began. My mom took all the dumplings out of the water with a slotted spoon and placed them in a colander. She left the dumplings in the colander and placed in a soup bowl to catch any extra dripping. Then she put a stick of melted butter in a bowl and also a bowl of sugar mixed with cinnamon on the table. You put the dumplings on your plate ; broke them up; being careful to push the seeds aside; sprinkled with cinnamon sugar and doused with melted butter. I don't think I have ever eaten anything better than my mom's dumplings! Yum!!
Now here is where the fun began. There were actually two contests within this meal. The first was to see who ate the most dumplings—we counted the seeds. The other game was to find the cherry dumplings. These were most coveted for many reasons. First and foremost they were by far the best tasting dumpling and EVERYBODY'S favorite. They also had 3 cherries in each dumpling which gave you 3 seeds add to your seed collection. Cherry dumplings were most coveted and were a little difficult to spot. We would all poke at a smaller dumpling and look for red juice but we were often fooled for when we cut it open on our plate it would contain a plum. My dad's rule was if you took it you ate it. There were many a tearful meals but my dad was steadfast to this rule. So the game became ruthless looking for those cherry dumplings. There were several times I left the dinner table with fork marks on my hand from my brother Tony as we were both going after the same cherry dumpling. These are some of the fondest memories of my childhood.
Once I realized we should have my mom write down the recipe it was too late! She had Alzheimer's and could not remember how to make the dumplings. When my mom passed away in 2005 we thought the recipe was lost forever. My dad was bound and determined to figure it out. He called me one day in January 2007; just a little over a year after we lost my mom and said I think I figured it out and he made a recipe using canned plums. I went to his house and heated the dumpling but never got to eat it or get the recipe. That same night I took my dad to the hospital; he was diagnosed with Leukemia; and died 5 days later. We thought the recipe was lost forever.
We were visiting my Uncle Joe last year (the only living relative in this generation) in Delaware. My cousin was also there and we started talking about food we ate that was special when we were young. I was with my brother Tony and my sister Cindy and we mentioned how we would kill to eat my mom's fruit dumplings one more time but that the recipe was lost! My cousin Karen shocked us all when she pulled out this recipe and said this is your mom's recipe; my mom had it. You can not imagine our joy!!
This recipe is from our Czech routes. Knedlicky is Czech for dumpling. Both my parents were born here in the United States but three of my four grandparents were born in what is now the Czech Republic. All four of my grandparents spoke Czech as did both my parents. My Babi (grandma in Czech) spoke minimal English and my Dede (grandpa in Czech) spoke no English. I grew up in Berwyn 50 years ago and it was almost entirely a Czech area. The shopkeepers spoke Czech, the bakeries sold Czech products and even the high school I attended taught Czech. As a matter of fact I took Czech my freshman and sophomore year.
When both my parents were young they attended Czech school. It is not surprising that many of the foods my mom cooked were Czech based since her mom and mother-in-law passed down recipes. My mom Helen was a great cook and baker. I hope by presenting this little piece of our family history you will Get a feel for the Czech "experience".
These fruit dumplings are not the prettiest food to look at but are oh so tasty!! Besides how can you go wrong with something covered in sugar and butter!!
I have taken the liberty to set up a couple of dumplings on the plate like we would eat them but I did not want to deprive you of the best part. So happy hunting for the cherry dumplings—be ware of the plum dumplings (all though they are not bad).
Jist!! (Eat!!)
Second Prize
Fruit Dumplings
Svestkove Knedlicky
Linda D. Cifuentes, Mohamet, Illinois
2 eggs; beaten
2 tablespoons melted butter
1 cup milk
3 1/2 cups flour
1/2 teaspoon salt
In a large bowl combine eggs, milk, and butter. Mix flour and salt with wooden spoon until smooth and in a big ball. Cut dough in half.
Wash and dry stone fruit (peaches, plums, apricots, and cherries).
Flour board and roll out dough. Wrap around washed fruit. Place in large pot boiling water with salt added and boil 20 minutes. Remove dumplings with a slotted spoon and place in colander to drain (this is how my mom served the dumplings).
Serve with melted butter and cinnamon sugar mixture