Greater Midwest Foodways Alliance
FAMILY HEIRLOOM RECIPES
Picnics and Family Reunions
Illinois State Fair
August 14, 2015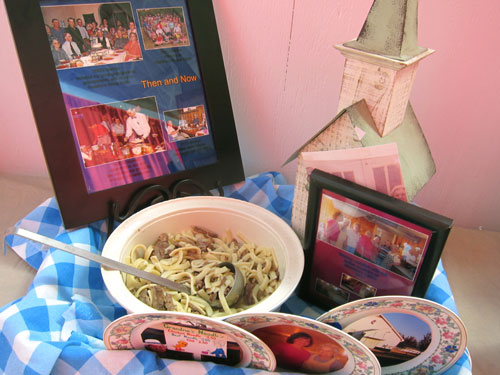 (Image by Peter Engler)
Second Prize:
Grandma's Beef and Noodles
Carmen Arnberger, Sherman, Illinois
For as long as I can remember, there have been two meals I could always expect to eat at my grandma's house; pigs in a blanket with cottage cheese and applesauce or beef and noodles. Grandma, or Nan Nan as we called her, cooked her beef and homemade noodles during most visits, and it was just expected that beef and noodles would be served at every family reunion. The tender roast meat combined with the noodles and salty broth have always been a favorite of mine. Now that Nan Nan is gone and the family reunions continue, enjoying her special dish keeps her a part of us.
My ties with homemade beef and noodles are made more special when I understand the history of not only by biological family, but my church family as well. This story starts in Sheldon's Grove, Illinois. Sheldon's grove is not too far from Browning Illinois and is a grouping of houses you might miss if you blink while driving by. In Sheldon's Grove there is a tiny little church on top of a very large hill. The church was built in 1871 and was a community church that was attended by many denominations of people. Various preachers would take turns coming to preach each week at the church. In the early 1930's, my great grandmother, Helen Burgard along with a handful of other women, converted the church to a Methodist church and thus, Sheldon's Grove United Methodist Church was born. This little country church has a history of the women of the church supporting it by any resources available to them. For example, one year they created a strawberry festival so that they could sell strawberries and strawberry products to support the church and missions of the church. They also sold chickens at one time. A more modern tradition has been for the women ofthe church to cook a turkey dinner in the fall. All the food is made by hand, including homemade mashed potatoes still peeled by hand with a knife. All this is done in the tiny little basement church kitchen with not many updates. It still looks like the 1950's when you enter the basement. Old Sunday School charts and pictures still hang on the walls. There is limited seating inside for those who wish to eat their dinner at the church, while many others opt for take-out orders. This annual tradition has been tremendously supported by members of the surrounding communities for many years, which includes my family. My family including my Nan Nan, mother, and other relatives have all come back to help at the tiny little church each fall for many years. Just down the road and down the hill from the church, is my great grandparents home in Sheldon's Grove.
My great grandma Helen and my grandmother, Arlene Burgard (Nan Nan) both lived during the time of the great depression and they were both members of the Sheldon's' Grove ladies auxiliary at the church. They both grew up making the most of what little they had, not wasting resources, and working hard. Noodles were something that could be made at home without requiring a lot of ingredients. Noodles and broth could also stretch what little meat they might have at the time and could feed a lot of people economically. This is probably why Nan Nan always served beef and noodles. It was a recipe she learned while growing up from her mother and just kept making. In today's modern times, I know of few people who take the time to make noodles from scratch. It is much easier to just grab a bag of noodles at the store. However, store bought noodles don't taste the same and today people are much more willing to pay for a bag of homemade noodles than to make them. The Sheldon's Grove ladies auxiliary knew this and again used their skills and resources to begin another tradition of the Sheldon's Grove UMC. For the past 20 plus years, the women of the church have been making homemade noodles to raise funds for the church and mission projects. The very same noodles my Nan Nan has been using in her beef and noodle recipe my whole life.
I had never made Nan Nan's beef and noodles. I mean, why should I? Nan Nan was the maker of the noodles and it was her signature dish. One day a few years ago this all changed, when I was invited to join in on the fun and learn how to make noodles with Nan Nan and the church ladies. These ladies got up early in the morning and worked at it all day. The entire church basement was taken over for the project. At the end of the day the basement had been transformed by the tables full of noodles drying. The ladies typically use 13-14 dozen eggs at a time. Everything was still mixed by hand, and cut by hand. There is definitely a trick to knowing just how thick the noodles need to be before they are cut. They can't be too thick or too thin. I had to redo mine a time or two! My day spent making noodles with my Nan Nan and the church ladies was full of stories of the "good ole days" and much laughter. The ladies joked that they were turning "dough" into dollars for the church. That "dough" was transformed into food baskets for needy, school shoes for impoverished children, and other local missions.
At the bottom the hill, from which Sheldon's grove UMC is perched, my family gathers every year in May for the Burgard reunion. It is still held at my great grandparents home. Although they are gone, the family has kept the house to use as a family gathering spot, which includes the reunion. Some years at the reunion, the family has walked up the hill to the church and worshipped inside its doors. There are even some family members that still worship there on a weekly basis. Other years we walk up the hill to the church and cross the road to the cemetery where my great grandma Helen and my Nan Nan are buried. We reminisce and hear stories, some old and some new. As I am reminded of them by these stories, I am proud of the legacy that my great grandma Helen and Nan Nan have left for me and my family. Their resourcefulness, faith, and love of family are what I taste as I eat grandma's beef and noodles.
Second Prize:
Grandma's Beef and Noodles
Carmen Arnberger, Sherman, Illinois
Recipe:
Noodles
2 eggs
3 T water
1/2 tsp salt
1 1/4 c flour
Beat eggs, add water and salt. Add flour. Knead slightly. Roll into two balls. Roll each ball into paper thin circle. Place on tea towels and let dry until pliable. Fold circle in half, then half again, forming wedge. On short end slice 1/8″ strips or to thickness of preference with a sharp knife. Shake out noodles and let dry completely on tea towel towel before using.
Beef and Noodles
3-4 lb. chuck roast 1 T shortening
2 quarts water 1 T salt
1 beef bullion cube
homemade noodles as above
In dutch oven, melt shortening and brown both sides of meat. Add water and salt. Bring to a gentle boil. Skim off fat as it bubbles. cover and let boil gently for 2 hours until tender. Remove roast. To remaining liquid add 1 quart water and boulion cube. Bring to boil. Add noodles a few at at time to not reduce water temp. Boil 9-12 minutes. Cut up roast into small pieces and return to finished noodles.