Greater Midwest Foodways Alliance
FAMILY HEIRLOOM RECIPES
Picnics and Family Reunions
Illinois State Fair
August 8, 2014
Second Prize Winner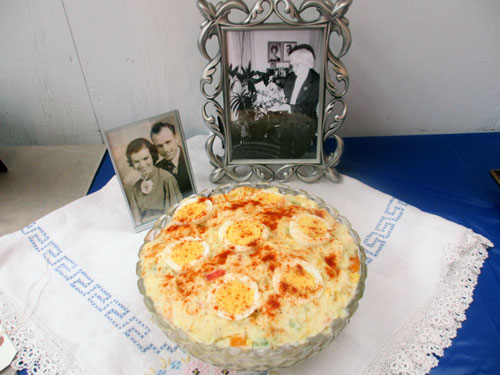 (Image by Catherine Lambrecht)
Second Prize:
Grandmother Wierman's Mashed Potato Salad
Christine Beckman, Sherman, Illinois
Mixing Up Memories
My Grandmother, Helen Marie Reisner Wierman, was born in 1913. Living through the Great Depression obviously created a need for creative cooking. She began making a version of this salad sometime in her 20's and it evolved into mashed potato salad in the early 1950's. As far as the recipe goes, she never wrote it down. Each time she made it, it came from memory. So it was never exactly the same. Funny though how it always tasted amazing no matter what tweaks she made. One time long before I came on the scene, my Mom remembers Grandmother attempting to sprinkle the celery seed into the salad. To her shock and surprise, the lid popped clean off and celery seed went everywhere! They attempted to scoop out as much of it as possible, but to no avail.  Turns out that was the best batch of her potato salad ever and the excessive amount of celery seen became a permanent ingredient. I remember as a child she would create a huge Thanksgiving feast with mashed potatoes to spare. The next day she would take the "extras" and create for me her most amazing dish. Mashed Potato Salad! She and I would mix it together taking turns with her old Sunbeam hand mixer, tasting ever so often to be sure it was just right. But during the spring and summer months, we could always count on Grandmother whipping up a large batch for the long weekends we spent at her place in Arcola, IL. The best part is that it gets better with age. Somehow, each day kept in the fridge makes it smoother and tastier. The bowl in which Grandmother's potato salad is displayed today is the same bowl she used when I was a child. So many wonderful memories are tied to her via this recipe. These are priceless. Surprisingly, no one else ever learned the recipe (not even my Mom), so I alone put it to memory. It was never really written down until now. I have always made it from memory, just like Grandmother, and I probably always will. Even though I've spent the past couple of summers trying to get the recipe exact, there is something to be said for cooking from your heart. It will be nice to have the recipe on paper to hand down to my children and grandchildren, but even nicer to teach them the way Grandmother taught me. By taste!
Second Prize:
Grandmother Wierman's Mashed Potato Salad
Christine Beckman, Sherman, Illinois
Ingredients:
5Ib potatoes peeled, quartered, boiled, & mashed thoroughly
1/2 cup scalded milk
3 cups Miracle Whip dressing
1 1/2 TBS sugar
2 TBS celery seed
1 cup sweet onion (coarsely chop all 6 vegetables)
1 cup celery
1/2 cup green bell pepper
1/2 cup red bell pepper
1/2 cup yellow bell pepper
1/2 cup orange bell pepper
12 hardboiled large eggs (chop 10 eggs, reserve 2 for slicing)
1/4 tsp paprika
*With an electric mixer, whisk scalded milk in to mashed potatoes. Cool and refrigerate overnight.
*Continue by mixing potatoes, Miracle Whip, sugar, and celery seed until well blended.
*Next, stir in by hand the onion, celery, and peppers.
*Gently fold in the chopped hardboiled eggs and transfer to a serving dish of your choice (glass is nice so the colorful peppers can be seen). Refrigerate the extra for refills.
*Using an egg slicer (or sharp knife) slice the two remaining eggs into thin circular slices. Place egg slices on top of potato salad in a decorative pattern and sprinkle the entire dish with paprika. Serve well chilled.