Greater Midwest Foodways Alliance
FAMILY HEIRLOOM RECIPES
Illinois State Fair
August 17, 2013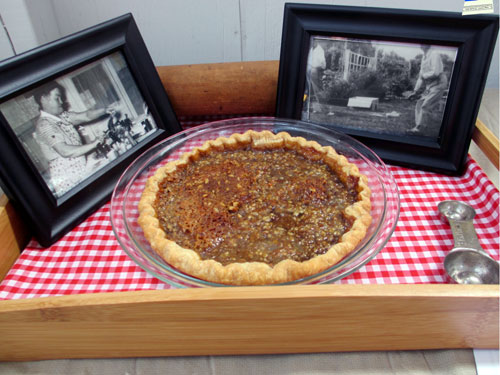 (images by Catherine Lambrecht)
Second Prize:
Sugar Pie
Dianne Wara, Washington, Illinois
I just inherited my grandmother's rolling pin! I know, it doesn't mean much to you. Anyone can gu and buy a rolling pin. But this one has been used by my great grandma, my grandmother and my mom. This rolling pin, my rolling pin, means the world to me! Oh, if my rolling pin could talk. I wonder what stories it would tell. Let me tell you my story … My great grandma came to America from France and brought her daughter (my grandmother) with her. They came to America shortly before World War I. Mom told me that my grandmother was 8 years old when she came to America. Mom use to tell me that the one thing grandmother remembered about that time was looking up and seeing the Statue of Liberty. They settled eventually in a small town in Iowa called Mystic. That's where my story begins.
Imagine this, two French speaking ladies in the middle of small town USA. Ok, that makes me laugh just thinking about it. But, the reason they moved there was because it was a town that was heavily populated with other French speaking immigrants. Great grandma never did learn to speak English but after a while, my grandmother did. I still remember going to grandmother's home. I was about 5/6 years old and I remember walking up the steps and into her house and these people carrying on conversations that made no sense to me. I was scared, uncomfortable and didn't want to be there. Looking back on it, that would have been so cool to listen to the conversations going on in that house.
I was born and raised in Illinois. So, when we would visit great grandma & grandmother, it was a 4 hour drive to get there and 4 hours to get back. So, when we would visit, we would stay for a few days. I remember many times visiting grandmother's house and all the activity going on in the kitchen. Sure, grandmother had a living room but, the family lived in the kitchen! I remember sitting at her kitchen table, many times and watching the women of my family cooking together. My grandmother always made pies, my great grandma made the bread, and my mom would do the rest. I was too young to help but they still gave me things to do. Like, picking the green beans for dinner, or picking fruit from her trees for pie, or going to the cellar to get something. When you're little, you don't want to sit still, help out or visit with the family (especially because I couldn't actually understand what they were talking about because they spoke in French) – not me! I would do whatever was asked of me then I'd rush back to her kitchen table and watch the women of my family work together creating a meal. I loved my grandmothers' yard! It was HUGE! She had a big garden, lots of trees, fruit bushes, and a chicken coop. How cool is that! Living in a big city, all that stuff was not things that a small child would see on a daily basis. My grandmother is what I would call self-sustainable. She cooked/baked with the ingredients that she grew. I remember going outside to pick berries for one of her pies. I think it was just the times and economy she grew up in. Living in rural Iowa, there wasn't a Walmart on every block for her to buy what she needed. She had to grow it herself! AND she never wasted a thing!
My grandfather owned a store. In fact, it was the only store in Centerville, Iowa for a while. My mom use to tell me stories of his store. I kind of imagine it to look like Oleson's Merchantile in Little House on The Prairie. I always thought the Oleson's were rich and people who owned stores were rich. That was not the case! My grandmother worked every day in the store with her husband. When my mom would get home from school, she was the one in charge of making dinner for her family. My mom has two siblings. She has an older sister (EllaMae) and a younger brother (John). There is a 17 year age difference between my aunt and my mom. So, my aunt wasn't around a lot to help. My mom's job was to make the meals for the family. One of my mom's favorite things to make for dinner was chicken & noodles. She would make the dough and roll it out before school then come home after school, cut them and use them for dinner. My mom made that dish many times while I was growing up.
My mom is a GREAT pie baker too! I'm sure she picked that up from her mother. My mom made pies for school functions, funerals, and as dessert for her family. Just as I did for my grandmother, one of my jobs growing up was picking the fruit for her pies. I LOVED watching mom make pies. So, one day, when I was about 8 years old, she invited me to make a pie with her. She had just made a full pie for a neighbor and she had leftover pie dough. She showed me how to make this wonderful pie called Sugar Pie. She had made it for us many times but, now I get to make it. Great grandma created it when there was extra pie crust dough. Remember, nothing was wasted in her family! This was her solution when there was extra dough leftover. This pie doesn't look pretty, it doesn't fit in a pan perfectly, and let's just admit it, at a bake sale, on looks alone – this pie would not get sold. However, just one bite into this pie and you will see why it's part of my heritage for 4 generations. The crispy crust and the buttery thin goodness on your lips – Y U M! Mom said that grandmother would bake this all the time for me when I was little. My mom has a cool rolling pin and I remember some time ago asking her if it was her moms' pin. Grandmothers' rolling pin produced some of the best pies that I have ever eaten. I'd love to have her rolling pin and as my own daughter grows I would like to use it and pass it down to her. I would love to show her how to make sugar pie using grandmothers' pin. Mom told me that she did not have the rolling pin. When my grandmother passed away her sister took almost everything including pictures. There was no division of property. I can only imagine what my mom must have felt like. I guess it caused major friction between mom and her sister for years. If! had a fairy godmother and she granted me one wish, my wish would be … being able to cook with the women of my family at grandmothers' house. I would have so loved to cook with all these women. Great grandma and grandmother were taken away before I could really cook with them!
For the last few years, for whatever reason, my aunt has let loose of some of grandmother's treasures and let mom have them. These treasures aren't valued much in money but, most have sentimental value that is priceless. In February of this year, my mom called and asked me if I would like one of grandmother treasures. Not even asking what it was, I said yes without hesitation. I have only one other thing that belonged to my grandmother. Well, not really, it belonged to my grandfather. It's an ash tray from his store. So, mom didn't tell me what treasure it was only that she would give it to me the next time she saw me. In April, shortly before my birthday, mom gave me my grandmother's rolling pin! I have very few memories left of my great grandma and grandmother, but sitting at her kitchen table watching her make pie is still very vivid in my head. Going out in her yard collecting fruits for her pie is another one.  The same rolling pin that my mom made noodles for her family. I feel like my grandmother is here with me and as silly as it sound, I feel closest to her when I put my hands on the very same spots as she did while I roll the crust for the Sugar Pie. If my rolling pin could tell me a story, would it be in English or French?
It is with great pride and joy that my entry for you was created by my great grandma, who taught her daughter (my grandmother), who taught her daughter (my mom), who taught me when I was 8 years old how to make. It's called "Sugar Pie". My mom is a pinch of this, a handful of that, a smidge of this kind of cook. There is nothing wrong with that except, her handful is not the same as my handful. It's not an exact recipe because you never know how much pie crust will be left over! So, in order to create a "standard recipe" I will be using a full 9-inch pie plate. The 3 staples of this pie are always the same, brown sugar, milk, and butter. According to mom one other ingredient was sometimes added depending on the season. That ingredient was nuts.
Grandmother had pecan and black walnut trees. I'm not sure if this type of pie actually came from France with Great Grandma or maybe perhaps a recipe created because of the times, accessible ingredients or just the fact that NOTHING was thrown away. But my great grandma and grandmother baked something that is out of this world in flavor. I do know that this pie was ALWAYS made with the left over pie crust. A pie crust was never made specifically for this recipe. I've even tried to look this pie up on the internet and have found nothing remotely close.  So, from my rolling pin to you, enjoy our family's Sugar Pie!
I have included a picture of my grandmother working in the kitchen and a picture of grandpa in their beautiful garden. The same garden that I would pick from so grandmother could make her pies and then make me my Sugar Pie out of the leftover dough!
Second Prize:
Sugar Pie
Dianne Wara, Washington, Illinois
Pie Crust
1 1/2 cups all-purpose flour
3/4 teaspoon salt
1/2 cup lard
2 1/2 tablespoons water
Preheat oven to 375°F. Sift together flour and salt. Blend lard into sifted flour with a pastry blender until the size of small peas. Add water all at once. Shape into a ball. Roll into a 9 – 10 inch pie pan; set aside.
Sugar Pie Filling
1/2 cup brown sugar
3 tablespoons whole milk
1 1/2 tablespoons butter, small cubes
2 tablespoons chopped pecan or black walnuts (if in season)
Sprinkle the brown sugar in the bottom of the pie crust. If using nuts, the nuts would go on now.
Evenly spread the milk. (The brown sugar will absorb the milk – that's what you want.) "Dot" on the butter cubes. Bake in preheated 375 oven for 35-45 minutes. Crust will be golden brown and filling will be bubbly. Take the pie out of the oven and let it cool.
NOTE: I did add black walnuts. My dad went to his farm in Iowa and picked them for me. His farm is about 1 mile away from my grandmother house!