Greater Midwest Foodways Alliance
FAMILY HEIRLOOM RECIPES
Iowa State Fair
August 11, 2013
Second Prize Winner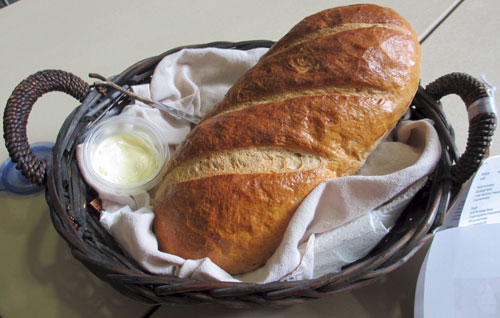 (Image by Catherine Lambrecht)
Second Prize:
Sourdough Bread
Cristen Clark, Runnells, Iowa
Classic sourdough bread with assertive flavor was always highly regarded in our family. Our farm was established in 1869 by the French Family (my great grandfather Reuben T.). There used to be a wide corner on the south end of the place. The gypsies would settle in there and come and sell their goods and take anything my family would give them for free (while stealing other things when my great grandparents weren't looking.( As legend has it, a gypsy woman stole a chicken and pushed it up under her dress to get it back to their 'camp' across the road in the wide corner. Luckily the family dog caught that one. The gypsies were never allowed back again and did respect that. We still live on that family farm today, working the land and raising livestock. That wide corner now is less because the road has been built up and the neighboring farm has removed their fence line and planted more row crops. It hosts neighbor kids jumping their four wheelers and is more of a 'ditch'.
In our family, food memories take such precedence because special times were always celebrated with special foods (ie: end of harvest, birth of children, weddings etc.) The matriarchs of the family were all accomplished cooks and bakers. This bread was a staple in the household and was served warm with butter for coffee time and with stew for dinner. Today we do the same. The addition of instant yeast is new and helpful for me because it cuts time down for me in the kitchen with young children. The starter for the sourdough bread used wild yeast from the air.
Second Prize:
Sourdough Bread
Cristen Clark, Runnells, Iowa
Sourdough Starter:
2 cups King Arthur Unbleached All-Purpose Flour
1 cup warm water
Dough:
all of the sponge (above)
3 cups King Arthur Unbleached All-Purpose Flour
3/4 cup warm water
1 1/2 teaspoons salt
1/2 teaspoon instant yeast
Sponge:
In a medium-sized mixing bowl, combine all ingredients, stir for 1 minute.
2) Cover and set aside in a warm place for 18 to 20 hours. Sponge will grow by at least 1/3 and have a pleasant aroma. At this point you may refrigerate this sponge for 5 days stirring 1x per day.
Dough:
1) Add the flour to the sponge along with the water, salt and yeast. Stir to form a dry mass, then let the mixture sit for 30 minutes, letting the flour absorb into the dough.
2) Turn dough out and hand knead on a greased surface, 10 minutes. Or using a stand mixer fitted with a dough hook, knead for 8 minutes on low speed. Dough should be tacky, not dry and dense. Add more flour/water as needed.
3) Place the dough in a greased bowl, turning to cover all sides, cover the bowl, and set it In a warm place to rise for 2-3 hours until double. Every hour, gently fold dough over on itself to redistribute yeast and oxygen.
Shaping:
Divide dough in half. Each piece should weigh roughly 18 ounces. Shape into rounds, let set for 20 minutes so dough can relax. Shape into baguette or batard. Slash loaves 1/8 inch into bread on a diagonal. Let the loaves rise for 2 or more hours; the dough should have almost doubled.
Baking:
Preheat your oven to 500°F for 30 minutes.
Just before placing the loaves in the oven, spritz them several times with water.
3) Put the loaves into the oven, spritz with water after 30 seconds, and again at 1 minute and 2 minutes. Turn the oven temperature down to 450·F and bake for 18 to 25 minutes. Be sure the bread is baked through, and the crust well browned. (Internal temperature of 200 is desired.)
Yield: 2 Medium Sourdough Loaves
Premiums sponsored in partnership with Feedstuffs FoodLink.com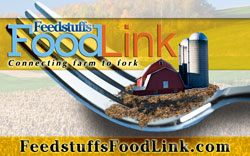 Pampered Chef is sponsoring additional prizes for our winners