Greater Midwest Foodways Alliance
FAMILY HEIRLOOM RECIPES
Wisconsin State Fair
August 3, 2014
First Prize Winner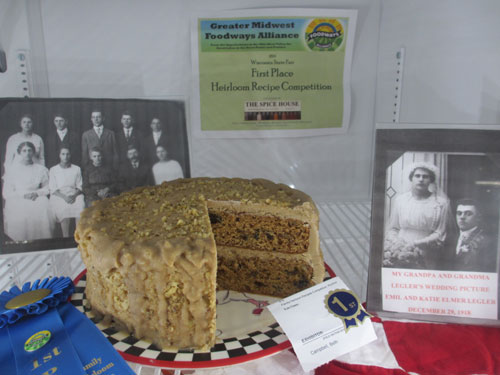 (Image by Catherine Lambrecht)
FIRST PRIZE
GRANDMA'S MINCEMEAT CAKE WITH CARAMEL ICING
Beth Campbell, Belleville, Wisconsin
MY OWN PERSONAL STORY AND MINCEMEAT MEMORIES
My own family has canned this mincemeat for over 80 years now. My mother died 9 years ago and to tell the truth I haven't canned this mincemeat for a long, long time now. My 95 year old aunt had to move out of her own home last year and moved to an assisted living facility due to numerous episodes of falling and problems keeping her balance. She didn't adjust very well to her new "forwarding address" and when I asked her what would make her happier there she simply replied "I just want to go home and have some mincemeat or pressed chicken like my mother used to make". Since I didn't have any canned mincemeat left, I decided to go ahead and make some once the gardens were coming to an end this past harvest time. I forgot how much work it was, but will continue to make it in the future because it's a family tradition.
As the oldest of 6 kids only 9 years apart, I remember having a lot of responsibility on the farm. As a family we didn't have much but being on a farm always meant that you had meat, milk and eggs no matter what. And to go along with all of those stables you also ALWAYS had a big garden with LOTS of vegetables and an apple orchard for LOTS of fruits and berries. Coming from 5 generations of farmers, my Grandpa always felt that it was essential for all of his 4 children to have a farm and of course he had one too. He expected his children to remain on the family farm until they were 21 years of age to "pay for their childhood", then they would have their own farm that he purchased and they were expected to pay back through the years. Since machinery was expensive, the whole family helped each other. There were so many farms and work to be done, so all of my aunts, uncles and cousins would go from one farm to the next family farm to get the crops planted and harvested. The women would be in the house baking, cooking, harvesting the garden; canning and freezing, etc. and the men would be outside harvesting the crops, stacking the hay, processing and butchering the meats. Children would help out doing whatever needed to be done-whether it was outside or inside. Milking of the cows was done by everyone-before and after school 7 days and nights a week. Nothing would EVER be wasted in our family and ALL produce and farm supplies were rationed and used till they were all gone. To waste food at the table was unheard of in my day-and no little scrap of anything was thrown out. Dresses and quilts would be made out of the old gunny sacks that the feed for the cattle came in. Again, no scraps were wasted and when we cleaned out my aunt's house-there were 40 boxes of scrap fabrics (anywhere from 1 inch to 6 inches in size.
I remember being in our old farmhouse 5 bedroom cement basement with the wringer washer, the old wood stove used to heat the house, the canning and root cellar and the wood room. There was a huge table set up down there too with a grinder on it and butchering supplies including a big huge roll of butcher paper to process the meat from the cows, pigs and chickens that we raised. That is where we put up our canning, including the processing and canning of the mincemeat. We had an old woodstove down there that was always used for whatever purpose we needed it for. Produce was used (and I mean every bit of it) from the garden; that meant the green tomatoes too – hence comes mincemeat. The recipe above was the same recipe that my Grandma always used just like her mother did and her mother did. My job was the grind the green tomatoes so my mom, aunts and Grandma could make that mincemeat recipe. After grinding the tomatoes, plumping the raisins and canning the mincemeat we would use it for pies, cakes and cookies throughout the year. This not only fed our family but also fed the many aunts, uncles and cousins who came and worked to harvest the crops, clear the snow, etc. throughout the year. I remember the smell of the mincemeat filling cooking down ready to be put into jars for processing and the whole house filled with the wonderful smells of the end of the growing season, with winter not being too far away. Eventually there were the smells of the "baked goods" that were derived from that canned mincemeat; cookies, bars, pies and cakes on those cold winter days. Today I have made my Grandma's mincemeat cake with caramel icing—even that is an "old" word I guess-would guess that younger people would
call it frosting these days! I hope that you enjoy it as much as I did as a kid growing up on the farm. I will be taking my aunt her mincemeat cake and her 80 year old cousin her mincemeat pie that she asked me to make her—guess the love for mincemeat runs in the family. I have to admit that I didn't love mincemeat as a child and developed a taste for it when I got older. I would like to hope that my GrandmaIMom are looking down and thinking "good job Beth" and all of the work of processing it would be worth it. They taught me the love of culinary and I can't imagine my life without baking and cooking.
FIRST PRIZE
GRANDMA'S MINCEMEAT CAKE WITH CARAMEL ICING
Beth Campbell, Belleville, Wisconsin
CAKE BATTER INGREDIENTS:
2 CUPS SUGAR
1/2 CUP COOKING OIL (I WOULD SUSPECT THAT MY GRANDMA USED MELTED LARD BUT I USED VEGETABLE COOKING OIL)
4 CUPS FLOUR
2 tsp. BAKING SODA
1 tsp. SALT
2 CUPS BUTTERMILK
1 PINT (2 CUPS) MINCEMEAT
1 CUP CHOPPED WALNUTS (OF COURSE MY GRANDMA WOULD HAVE USED BLACK WALNUTS FROM THE WALNUT TREES THAT WE DRIED, SHUCKED AND PICKED)
1/4 CUP SOURMASH (BOURBON)
COMBINE THE SUGAR AND COOKING OIL; MIS WELL. SIFT TOGETHER THE FLOUR, SODA AND SALT. ADD THE BUTTERMILK TO SUGAR MIXTURE. ADD DRY INGREDIENTS ALTERNATELY AND BEAT WELL. STIR IN THE MINCEMEAT, SOURMASH BOURBON AND THE NUTS. TURN THE BATTER INTO TWO GREASED 9 INCH CAKE PANS. BAKE AT 325 DEGREES FOR 1 HOUR OR LONGER IF NECESSARY. TEST WITH A TOOTHPICK STUCK IN THE MIDDLE OF THE CAKE THAT COMES OUT CLEAN FOR DONENESS.
CARAMEL ICING:
1 tsp. VANILLA
2 CUPS BROWN SUGAR
1 PINCH OF SALT
1 STICK OF BUTTER
5 TBS OF CREAM
1/4 tsp. BAKING POWDER
COMBINE ALL OF THE INREDIENTS AND BOIL IN A SAUCEPAN. LET BOIL FOR 5-7 MINUTES. BEAT IN THE BAKING POWDER WITH A SPOON; ADD VANILLA. LET COOL SLIGHTLY. BEAT UNTIL IT GETS THICK. ADD THE POWDERED SUGAR UNTIL YOU GET A NICE SPREADING CONSISTENCY TO SPREAD ON THE CAKE. Frosting dries quickly so you need to work fast with it before it hardens. (Grandma wasn't a fancy cake decorator but would put finely chopped walnuts around the cake and drizzle some of the frosting on the edges-so in keeping with tradition-I did the samel
Yield: Approximately 14-20 slices of cake — kind of rich so you might want to cut it small.
VERY OLD MINCEMEAT RECIPE INGREDIENTS THAT I USE
This recipe comes from the 1907 Ladies Aid Cookbook of our church that my Grandma and Grandpa's families founded.
3 LBS GREEN TOMATOES
3 LBS APPLES
2 LBS RAISINS (plumped in hot water for 1/2 hour)
8 CUPS BROWN SUGAR
2 TBS. SALT
1 CUP SUET
1 CUP VINEGAR
2 TBS. CINNAMON
2 tsp. GROUND CLOVES
1 tsp. NUTMEG
Grind green tomatoes. Pour boiling water over them twice, draining each time. Grind apples and suet. Mix all the rest of the ingredients and boil until thick. (Takes about an hour). Seal in sterilized jars while still hot and process in hot water bath for at least 30 minutes until jars seal.