Greater Midwest Foodways Alliance
FAMILY HEIRLOOM RECIPES
Family Favorites Never Served to Guests
(or whatever you like)
South Dakota State Fair
September 6, 2015
First Prize Winner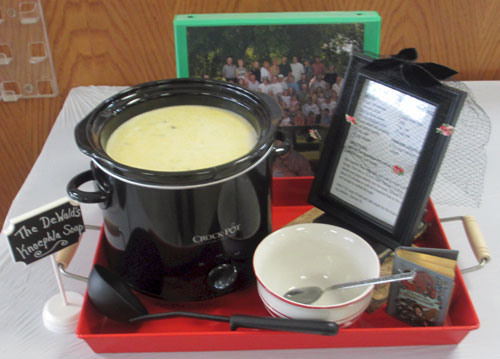 (Image by Catherine Lambrecht)
First Prize:
The DeWald's Knoephla Story
Tammie DeWald, Milbank, South Dakota
The Family Heirloom Recipe Competition seeks the best made from scratch heirloom recipe of a family favorite never served to guests. The Knoephla soup recipe that I received from my in-laws, Jim and Joyce DeWald was passed down to them from Great Grandma and Grandpa Alvin DeWald would meet those requirements.
Knoephla (pronounced nip-fla) soup is a warm and comforting meal for my family. Knoephla is a type of dumpling, commonly used in soups. The word is related to the modern German dialect word Kropfle, meaning little knoblbutton. It is particularly common in the U.S. states of Minnesota, South Dakota and North Dakota, where there was a significant settlement of German immigrants from the Russian Empire.
Knoephla soup is a German-Russian soul food. It seemed that everybody made a dough dish for a meal over the last few generations. Germans who immigrated to this area from Russia were poor people and they had to make things with what they had. It was true to our family and others. Almost all had eggs and flour, the two absolute necessities for dough, but therein lies the appeal of Knoephla soup.
Knoephla had many other spellings. It is the name given to the very basic noodles or dumplings that have been a staple ofthe diet of many Germans from Russia since at the very least the middle of the 1800s.
Knoephla is dumplings cooked with a hearty homemade chicken broth and vegetables. Knoephla soup was especially important during the winter on the farm, when it provided both nutrition and quick lasting warmth. It's about filling you up, stomach and soul It's a simple heart warming soup and we love it.
Adam and Magdalena DeWald were both born in Russia. Adam came to the United States when he was five years old and Magdalena was one year old with each of their parents in 1879. Adam and Magdalena DeWald were married in 1896, and had eight children. Their son Alvin married Alvina in 1937. They had four children. Their son Jim married Joyce in 1962. Their only child Jim married Tammie in 1983. These are the four generations we know for sure that made the Knoephla soup.
The Knoephla soup recipe has been in the family for over 100 years. The men in the family have all been great cooks in the kitchen along with their wives. I have passed down this recipe to our three grown daughters to continue the tradition to the fifth generation. Our youngest daughter, Michaela, loves this recipe when she comes home from college at SDSU on the weekends.
Great Grandma Alvina DeWald passed away on July 30, 2008, and Grandpa Alvin DeWald passed away March 14, 2006. We learned so much from their talented skills in the kitchen and their love of cooking with each other, side by side, from the beginning to the end. They were quite comical in the kitchen and had their own techniques that made their dishes great together especially their soups and homemade noodles. No food went to waste. Leftovers were always made into delicious dishes. We will never forget their love of food and what they brought to the kitchen. They would have been great on the Food Network Channel and together they would have had high TV ratings. We love and miss you.
The display has one of Grandma DeWald's hats and some of their old DeWald Gennan books that were passed on down to the family. I put the Knoephla soup in a crockpot for the competition to keep it warm. Enjoy! Tammie DeWald
First Prize:
The DeWald's Knoephla Soup
Tammie DeWald, Milbank, South Dakota
BROTH:
7 cups homemade chicken broth
3/4 cup diced celery
1/2 cup chopped onion
2 cups sliced red potatoes
1 cup sliced carrots
1/2 tsp. salt
1/2 tsp. pepper
DOUGH:
2 cups white flour
1 egg
1 tsp. salt
1/2 cup milk
FINISHING ADDITION:
2 1/2 cups half-and-half cream
DIRECTIONS:
Simmer the vegetables and salt/pepper in the chicken broth until tender.
Mix together flour, egg, salt, and milk to make a stiff dough. Roll into a 1/2 inch rope. Cut into 1/4 inch pieces and place directly into the soup. Simmer for about 20 minutes or until all Knoephla float to the top and dough is cooked through.
Add 2 1/2 cups of half and half cream for the finish­ing addition. Serves 10 .