Greater Midwest Foodways Alliance
FAMILY HEIRLOOM RECIPES
South Dakota State Fair
September 1, 2013
First Prize Winner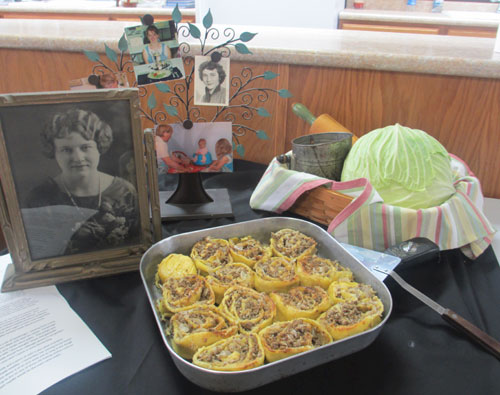 (Image by Catherine Lambrecht)
First Prize:
Kraut Strudel
Marie Harvey, Ree Heights, South Dakota
I learned to make this recipe when I was a teenager in the 70's. I used it to get out of going to the hay field. I have no brothers and two younger sisters so it was my job so stay home and get dinner (our noon meal) so mom could run the other hay mower and rake with my dad, making hay for the registered Hereford cattle they raised. This recipe came from my grandma Neu, my dad's mom. I don't know where she got it only that it was often used and she made it for my dad when he was a kid. (Dad will be 80 years old this Nov.)
Because it was a favorite of my dad's my mom got the recipe from Grandma. My mom was always looking for cooking shortcuts. She found this recipe makes a big batch and the strudels freeze up well, so they could be frozen and then use individually as needed. I found this tip useful as a newlywed farm wife too. My Granddaughter Jenna, also a farmer's daughter is now starting to practice rolling the dough out with her own little personal pink rolling pin. Jenna and her little sister Holly will make up at least the 5th generation in our family to learn this recipe. Thus taking the kraut strudel recipe into the 21st century!
My daughter Ann learned to make kraut strudels when she was 15, for the 4-H special foods contest, in 1990's. Part of Special Foods is researching the food history and nutrition. Ann learned that for centuries Europeans used sauerkraut on sea voyages and long winters. It was a good source of Vitamin C. The fermentation process helps produce helpful enzymes antibiotic and anti-carcinogenic substances by converting the starches and sugars in fruits and vegetables into lactic acid bacteria. Lactic acid bacteria health benefits include lower blood pressure, disease resistance and a bullet-proof immune system.
We just ate it because it tasted good. This recipe uses a lot of hamburger. Coming from a long line of cattlemen and women we all had chest freezers filled with beef we raised. Hamburger was always in abundance after the preferred roasts and steaks were eaten. This recipe also uses a lot of sauerkraut. My recipe today is made with "store-bought" kraut, but generally when I make kraut strudels, I use kraut I have made myself from cabbages grown in my garden. My homemade stash right now is deleted until next year's batch is done fermenting.
The simple dough in this recipe (eggs, flour, milk and a pinch of salt) is also what Grandma would roll out, slice up and dried for homemade noodles. I remember her coming to our house and rolling noodles. She would cut each one about 1/4 of an inch wide and as long as the dough would hold. Then she would hang them up to dry on one of those old folding clothes racks to dry. She took great care to make sure each noodle would be the exact same width.
My Grandma used a big black cast-iron skillet to make her kraut strudels. My mom upgraded to an electric frying pan. Grandma's skillet made browner and crustier strudels-the crunchy part is always the bestl
As kids, we generally ate kraut strudels warm, straight from the frying pan. But over the years we've learned they are also good left-over, eaten cold, straight out of the refrigerator, or chopped up and mixed with eggs as scrambled eggs. I think the scramble eggs idea came from my learning if the hamburger mixture is not completely cool when you put it on the dough, you get something along the lines of kraut scramble, not strudel.
This recipe helped us learn to roll dough out. Very helpful in pie baking, but that is a whole another batch of family recipes storiesl
First Prize:
Kraut Strudel
Marie Harvey, Ree Heights, South Dakota
3 Eggs
1/2 c milk
1 1/2 Ibs hamburger
1 med.Onion
1/2 tsp salt
4 1/2 to 5 cups flour
1 large can sauerkraut (14 ounces)
1 1/2 T lard or shortening
1/2 t salt
Dash of pepper
Brown hamburger and onions and add sauerkraut and 1/2 t salt and pepper.  Mix together well, drain and place on a cookie sheet to coo. In a large bowl, combine 3 eggs, 1/2 t salt and milk. Gradually add flour until of rolling consistency. Place dough on floured board and roll to 1/4 inch thickness. Spread cooled meat mixture over dough and roll jelly roll style. Cut into 1 1/2 inch slices crosswise. Place 1 1/2 T grease and 1 1/2 cups water in frying pan and bring to a boil. Place strudels in pan and cover tightly. Allow to steam, cook until water is gone. ( about 10 minutes).
Remove cover, turn and allow second side to brown.
Serve.
Premiums sponsored in partnership with Feedstuffs FoodLink.com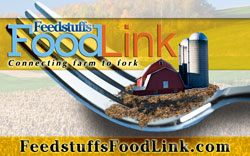 Pampered Chef is sponsoring additional prizes for our winners