Greater Midwest Foodways Alliance
FAMILY HEIRLOOM RECIPES
Missouri State Fair
August 13, 2016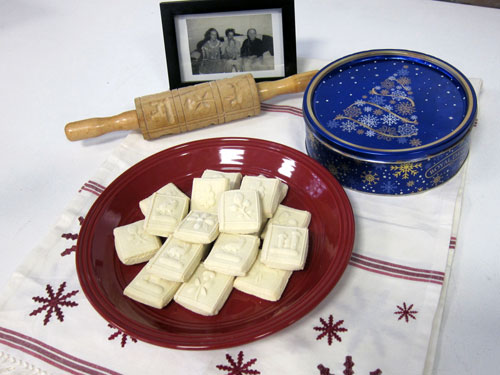 (Image by Peter Engler)
First Prize:
Springerle
Pat Finkes, Steelville, Missouri
Every Christmas, Mom and Grandma would bake Springerle Cookies for the family.
I must admit they were not my favorite cookie, as a child, but the memories I have of them baking these cookies are priceless.
I can picture them with their hair neatly braided to the sides and flipped over their heads, pinned in place and setting all the ingredients out, getting ready to make them.
I always knew once they started making the Springerle Cookies, Christmas was near and I would get my letter written to Santa.
Once Mom and Grandma got the dough mixed and the air filled with the aroma of anise (black licorice) I was lucky enough to get to use the fancy carved rolling pin. "Press firm but not hard" my grandma would say to me.
Mom would slice the cookies apart ever so carefully and place on a cookie sheet to rest overnight. I learned later as I got older, that this was to set the design during baking.
After they were finally baked and rested another 24 hours I would help pack them into tins that Mom had saved.Now the cookies would disappear and come out on Christmas Eve.
The opening of the ting, the smell of anise can only mean one thing – Christmas is here.
Thanks Mom and Grandma for the great memories.
First Prize:
Springerle
Pat Finkes, Steelville, Missouri
4 eggs
2 c. sugar
1 ½ T. Butter
1 tsp baking powder
½ tsp anise oil
4 c flour
Springerle rolling pin – lightly floured
In a large bowl beat eggs until light and fluffy. Ad the sugar, butter and baking powder. For 15 minutes beat at high speed. Add anise oil. Add flour until well mixed.
Knead dough on a lightly floured board. Dough will be sticky at first.
Roll dough out to about ½ inch thick using a standard rolling pin. Now take the lightly floured Springerle Rolling Pins and gently but firmly roll across the dough to make a clear design. Cut cookies apart and place on a cookie sheet. Roll out again and repeat until all dough has been used. Let cookies stand overnight to dry. Letting them dry will help keep the image during baking.
Next day preheat oven 350 degrees. Bake about 10 minutes – the tops will still be white but the bottoms are slightly golden brown. Cool on cake rack and wait 24 hours before storing. Keep in airtight container for 2-3 weeks before eating, the flavor is better.