Greater Midwest Foodways Alliance
FAMILY HEIRLOOM RECIPES
2015: Family Favorites Never Served to Guest 
(or whatever you want)
Missouri State Fair
August 15, 2015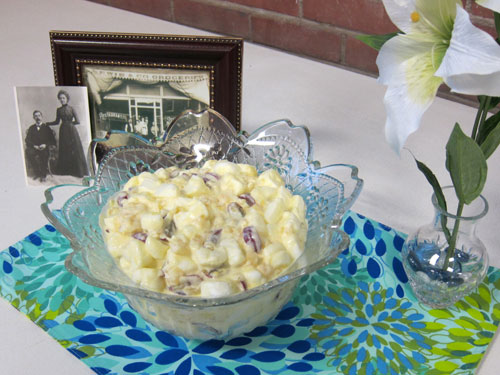 (Image by Peter Engler)
First Prize:
Lily Salad
Shannon Cobb, Lexington, Missouri
My great-grandmother, Cora "Mamaw" Brooks, and her husband, led, moved to Leadville, Colorado around 1900 in search of a better life. Jed had heard that Leadville was rich in certain ores (not gold) which he thought would surely improve their quality of life. Unfortunately, Jed was unsuccessful at mining and my great-grandmother realized that he was not very "work-brickle." They left their tiny cabin in Leadville, Colorado and returned to Lee's Summit, Missouri (where Cora was originally from). While in Leadville, Cora had a son, Frank, who died during childbirth. After returning to Lee's Summit, Cora discovered she was pregnant with their second child. With a toddler and a baby on the way, she soon realized she would be responsible for providing for the family.
Cora had always been an excellent cook. She opened up a restaurant in Lee's Summit. Cora's mother, Jed, and several other relatives helped out in the restaurant. She and Jed lived in the back of the restaurant. Jed became ill with consumption and was moved to a neighbor's house. He briefly stayed outside in a bed under a tree with a mosquito net over the bed until his death in 1914. Cora continued to run the restaurant while caring for 3 little girls. She fixed a variety of dishes at the restaurant, including chili, meatloaf, pork and beef roast, mashed potatoes with gravy, various vegetables (she always had green beans), salads, biscuits, cakes, pies, strawberry shortcake, cookies, etc. She enjoyed experimenting with different foods and trying out new recipes. Cora had a knack for knowing which foods would complement each other. She cooked many of her signature items in the restaurant without a recipe. Providing hearty, home cooked meals to her customers made her happy. On very rare occasions, she would fix a small batch of Lily salad. Lily salad has been a staple in my family for many years. We often prepare it for Thanksgiving and Christmas dinners.
After approximately 5 years in the restaurant business, Cora decided to move to Warrensburg, Missouri. She wanted her girls to have the opportunity to receive a good education. Soon after moving, Cora was introduced to Newt Murphy, who later became her second husband. They raised her three daughters and adopted another daughter, Reylene (my grandmother).
The photograph shows my great-grandmother, Cora, her mother, Jed, and two of her daughters in front of her restaurant in approximately late 1913.
First Prize:
Lily Salad
Shannon Cobb, Lexington, Missouri
Sauce
1 cup sugar
1 egg yolk
1/2 cup half heavy cream, half milk
2 Tablespoons lemon juice
1 cup heavy cream
Salad
2 cups marshmallows (cut up)
3 oranges (cut up)
2 cups red grapes (cut up)
1 1/2 cups pineapple drained and cut up fine
Whisk together the egg yolk and heavy cream until thoroughly mixed.  Add in lemon juice and sugar. Whisk together.  Cook in small saucepan over low to medium heat (depends on your stove) until mixture coats a wooden spoon.  Let cool.  Whip the heavy cream in a large bowl.  Fold cooled mixture into heavy cream.  Pour over marshmallows, oranges, grapes, and pineapple.  Chill overnight.
@ 12-16 servings (small)