Greater Midwest Foodways Alliance
FAMILY HEIRLOOM RECIPES
Picnics and Family Reunions
Missouri State Fair
August 9, 2014
First Prize Winner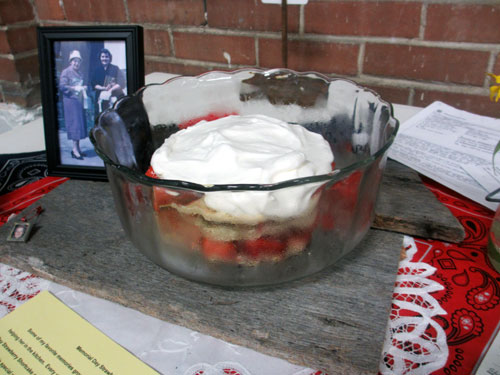 (Image by Catherine Lambrecht)
First Prize:
Memorial Day Strawberry Shortcake
Megan White, Cole Camp, MO
Some of my favorite memories growing up were spent at my Granny's house helping her in the kitchen. Every year we made one of my favorite desserts, Memorial Day Strawberry Shortcake and I remember my Granny telling me why she made this dessert this special way.
Every year on Memorial Sunday her mom and dad and sisters would attend Union Church just outside of Cole Camp for services in the morning and then they would have lunch on the grounds and then attend services that afternoon. Union Church was built in 1904 and has no electricity or water. Services are only held once a year at the rural church on Memorial Sunday. My Granny told me that her mother would always make this Memorial Day Strawberry Shortcake each year to take to Union Church. She would pick strawberries from her garden and then make pie crusts and would layer the strawberries and pie crusts in a glass bowl and top it with whip cream.
Each Memorial Sunday, as the people would arrive they would first carry out the walnut planks out of the church and set them up under the trees. After the morning services everyone would gather around for a huge pot luck dinner before the afternoon services.
It is now my turn to continue the tradition of making the Memorial Sunday strawberry Shortcake for all our family gatherings and Union Church.
First Prize:
Memorial Day Strawberry Shortcake
Megan White, Cole Camp, MO
Shortcake – Pie Crust
4 cups all-purpose flour
1 3/4 cups shortening
3 tablespoons white sugar
2 teaspoons salt
1 egg
1/2 cup cold water
Strawberries
8 cups strawberries, cleaned and slices
3/4 cups sugar
Sweetened Whipped Cream
1 cup heavy whipping cream
3 tablespoons confectioner's sugar
1/2 tsp vanilla extract
Shortcake – in a large mixing bowl combine flour, shortening, sugar and salt.  Blend together with a pastry cutter until crumbly.  In a small bowl, mix egg with water.  Blend into flour mixture.  Chill in refrigerator for 1 hour.  Roll dough out into 9-inch circles and place on a baking sheet. Bake at 425 degrees for 10 to 12 minutes or until lightly brown. The dough will make 4-9 inch circles.  Let cool for 5 minutes on baking sheet, the remove from baking sheet and place on cooling rack.
Strawberries – Stir together strawberries and sugar in a medium bowl.  Let stand at room temperature until juices are released, at least 30 minutes.  The sit strawberries in fridge for 1 hour.
In a large bowl layer the pie crust circle, strawberries, crust, strawberries, etc. ending with strawberries.
Sweetened Whipped Cream – In a chilled small glass bowl and using chilled beaters, beat cream until thicken.  Add confectioner's sugar and vanilla extract, beat until soft peaks form.  Serve either on top or on the side of strawberry shortcake.
Yield: 8-10 servings.