Greater Midwest Foodways Alliance
FAMILY HEIRLOOM RECIPES
Missouri State Fair
August 10, 2013
First Prize Winner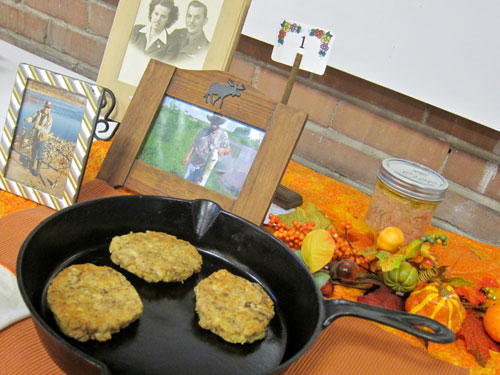 (Image by Peter Engler)
First Prize:
Carp Cakes with Cucumber Sour Cream Dill Sauce
Barbara Clark, Kohoka, Missouri
Clifford Clark was an avid hunter and fisherman all of his life.  He was born in Lewis Country, which is located in the Northeastern corner or Missouri.  He spent his youth fishing on the banks of the Wyaconda and Fabius Rivers.  As the oldest child from a large family during the end of the Great Depression, he used his hunting and fishing skills to help provide food for the family table.
Refrigeration and electricity was unheard of on rural farms in Missouri prior to electrical cooperatives.  One of the ways excess food was preserved was by pressure canning.  A bountiful catch of carp or buffalo from the local rivers resulted in jars form meat in the pantry waiting for us.
Returning form World War II, he married and started his own family.  The traditions of canning fish continued.  I also can carp or buffalo for our own use.
The basic recipe for fish cakes remains unchanged.  However, the tarter sauce served on the side has evolved over the years.  Now I serve carp cakes with a cucumber sour cream dill sauce as my heritage is Swedish/Danish.  Our son-in-law enjoys his with sweet chili sauce reflecting his South African heritage.  Family recipes slowly evolve as each generations tastes are taken into consideration during the preparation of a dish.
First Prize:
Carp Cakes with Cucumber Sour Cream Dill Sauce
Barbara Clark, Kohoka, Missouri
1 pint canned carp
2 eggs, lightly beaten
15 to 20 saltine crackers, coarsely crushed
1 cucumber, peeled and seeded
1 (8 ounce) container of sour cream
1 clove garlic minced
1/2 teaspoon salt
Drain juice from 1 pint canned carp.  Place in medium size bowl and flake.  Add eggs and saltine crackers.  Stir until just combined.  Divide into 4 equal portions and flatten into 1/2-inch patties.  Fry in lightly oiled skillet 5 minutes over medium heat on each side, or until golden brown.
To prepare sauce – grate cucumber and place in a colander, pressing to drain excess liquid.  Pat dry between paper towels.  Stir together cucumber and remaining ingredients.  Cover and chill at least 30 minutes or up to 2 days.
4 servings.
Premiums sponsored in partnership with Feedstuffs FoodLink.com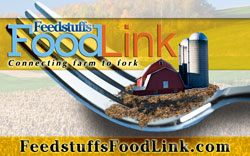 Pampered Chef is sponsoring additional prizes for our winners.