Greater Midwest Foodways Alliance
FAMILY HEIRLOOM RECIPES
Picnics and Family Reunions
Minnesota State Fair
August 17, 2014
First Prize Winner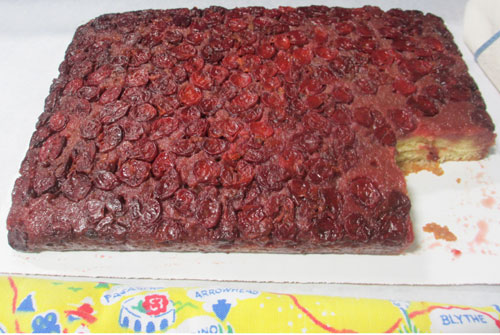 (Image by Catherine Lambrecht)
First Prize:
Mom's Cherry Upside Down Cake
Mary Drabik, Shoreview, Minnesota
The legacy my mother left to her children was the fond memories we have of cooking and baking with her in the kitchen. That room was the Grand Central Station of our home. Life seemed to revolve around the kitchen and all the activity it took to keep ten children fed. Mom worked hard to stretch every penny and did so without making us feel deprived.
Our house was tiny and hot in the summer so my Mom tried to do as much cooking as she could at night. The sound of Mom slapping dough and mixing ingredients lulled me into a deep sleep. The best party of the summer was Dad's birthday on July 4th• My aunts, uncles, and cousins, would come over to help us celebrate. Us kids would play endless games of tag and red light/ green light. The day always ended with a trip to the fireworks so we could see that "Everyone celebrates Dad's birthday" was true! The highlight, placed on the special California tablecloth, was always Mom's sour cherry treats.
My aunt had sour cherry trees in her backyard and every summer my older sisters and my Mom would pick bags of cherries to bring home. And then the cherry craziness would commence. My Dad loved cherry pie so there was plenty of that Everyone enjoyed Mom's cherry juice infused lemonade on hot summer days. My favorite cherry item was her cherry upside down cake-which, of course, used shortening instead of butter to save a few pennies.
After years of walking to my aunt's house-and then returning with shopping bags filled with cherries-Mom finally got her own cherry tree. My sister used babysitting money to purchase a cherry tree and a peach tree on Mother's Day. The peach tree never produced much, but my mother loved that cherry tree. We all loved the cherry tree. We struggled together to keep away the birds. We shared watering responsibilities. Together, we managed to have a good supply of cherries every year. I remember peering out of the back window of our upstairs bedroom checking on the condition of the cherry tree especially if we had a lot of snow or deep cold during the winter.
Some people think that growing up in a big family is difficult. It has its challenges and also its rewards. I learned to appreciate each small blessing and how to work through the hard times. We were very lucky growing up in a strong family with loving parents and delicious treats. I miss those hot summer days in Chicago, dancing the jitterbug in the kitchen with my older sisters while we took a break from pitting cherries.
First Prize:
Mom's Cherry Upside Down Cake
Mary Drabik, Shoreview, Minnesota
To prepare pan:
6 tablespoons butter
1 1/4 cup packed brown sugar
1 1/4 pounds (2 1/2 to 3 cups) pitted sour cherries
Melt the butter in a small saucepan with the brown sugar. Stir until smooth. Pour into a greased 9 inch by 13 inch pan. Place the pitted cherries in an even layer over the butter & sugar mix.
Cake:
3/4 cup butter
11/2 cups C&H sugar
3 eggs, separated
2 teaspoons vanilla
1/2 teaspoon almond extract
3/4 cup whole milk
2 1/4 cup Gold Medal all-purpose flour
1 tablespoon baking powder
1/2 teaspoon salt
Beat the butter and sugar together until pale and very well mixed. Add the 3 egg yolks, separately, beating well after each addition. Beat in the vanilla and almond extract.
In a separate bowl combine the flour, baking powder and salt. Add this alternately with the milk to the butter/sugar/egg mix in four steps.
In another bowl with a fresh whisk beat the egg whites until stiff. Stir a small amount of the egg whites into the cake batter to lighten the dough somewhat. Then carefully fold in the rest of the egg whites by hand using a lift fold technique. Gently spread the cake batter over the cherries. Bake the cake about one hour at 3500 or until top of cake is golden and a toothpick inserted in center comes out clean. Cool the cake for 15 minutes and then turn out onto a large serving platter to cool completely. You can serve this cake with a topping of whipped cream if you like.
Whipped cream topping:
1 cup whipping cream
1/3 cup C&H granulated sugar
1 teaspoon vanilla
Combine ingredients in a chilled bowl and beat until whipping cream is stiff.