Greater Midwest Foodways Alliance
FAMILY HEIRLOOM RECIPES
Indiana State Fair
August 11, 2016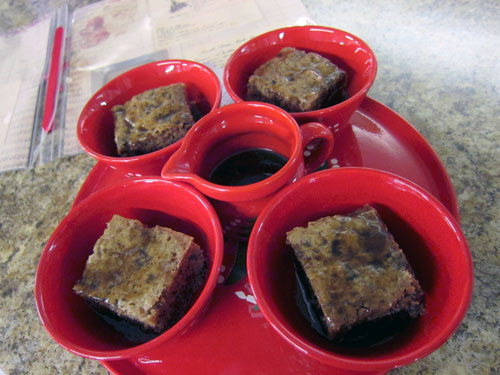 (Image by Peter Engler)
First Prize:
Mother Graham's Date Pudding
Raymond Graham, Fishers, Indiana
The one thing that I remember most about our family Christmas dinners from a very young age growing up was that it started with Shrimp Cocktails and ended with Date Pudding for desert. As a little boy I couldn't wait for that once a year Date Pudding desert on Christmas Day. And, this is a tradition my family still looks forward to on Christmas. (Although I have to say, when I was married 36 years ago and first told my wife what we were having for desert on Christmas, she turned up her nose in disgust. She didn't think that this would be special enough for Christmas Day, let alone … how could dates be considered a dessert! But, after her first Christmas with my family, she did an instant about face and even her family has now adopted it as their family dessert for special occasions.)
My family would always trade off having the holiday dinners. I know if we were at our house, my mom would always make the date pudding. If we were at my Aunt Helen's, she would prepare it and if we were at my Aunt Aggie's she would make it. They all tasted exactly alike. But, after my mom and aunts passed away, I started to look through all the recipe boxes that Ihad inherited for the date pudding recipe so that I could make it for our family and I found 5 different recipes. Of course, one of them was my mom's, Ruth Graham. The next two belonged to my aunts, Helen Elliott and Agnes Heilman and the last two were from my grandmother, Mabel Agnes Graham and her sister. I don't remember much about my grandmother. She passed away in April 1957. I was only 5 years old at that time. The one thing that I do remember about her is that we called her Mamaw. And, I didn't even remember anything or any stories about my Great Aunt Ina until I found her recipe as well. I do remember my dad and my aunts always talking about how they enjoyed the Date Pudding desert as they were growing up on Christmas Day. I always remember thinking, even at a very young age, how very special that growing up as a little boy that my dad enjoyed the same desert as I did growing up. And, now as an adult in the later years of my life, I marvel how this desert has been ongoing for more than 100 years. Once I started going through the recipes for this desert I found that each and every family member altered it just a little bit with the amount of sugar, type of sugar and the sauce. But, the biggest difference was the cooking time and degree at which it was baked. It started out with 275 degrees for 45 min to an hour. My mother's version ended up calling for 350 degrees and a cooking time of 19 minutes in a covered aluminum pan that I still use to this day to bake my Date Pudding for our family. Mom also doubled the vanilla/brown sugar sauce ratio for the sauce. Of course, I have also altered the recipe a bit too!
This week when I was going through boxes and boxes of old recipes and albums of old pictures while I was reminiscing and feeling nostalgic, I found a picture from a Christmas dinner dated 1944. And, on the table I can see the shrimp cocktail! I just couldn't believe that I found this particular picture. Besides noticing the Shrimp Cocktail, I noticed that there were 3 of my aunts, but all of their husbands and another uncle were MIA in the picture. Then it dawned on me that Uncle Ray, Uncle Bill, Uncle Keith and Uncle Howard were overseas representing the USA in WWII. I can only imagine how they were missing Christmas time with their family and loved ones …. Oh, and yes, how they were missing the Date Pudding for their Christmas Dinner desert.
First Prize:
Mother Graham's Date Pudding
Raymond Graham, Fishers, Indiana
(No Eggs but can have a pinch of salt)
1 Cup dates shelled, cut into pieces (I use pitted dates)
1 1/2 Cup boiling water, poured over dates
1 Tablespoon butter
2 3/4 Cup flour all purpose
1 Teaspoon baking powder
2 Teaspoons soda
1 1/2 Cups sugar
1 Cup chopped nuts
Soak dates in boiling. Add 1 tablespoon butter and one tablespoon butter to dates and boiling water. Let soak for 30 minutes. Add cup of chopped pecans.
In separate bowl, add flour, sugar, baking powder and soda and mix well.
Mix the date, water, and pecan mixture with the flour mixture and stir to mix well.
Pour into buttered Pyrex or aluminum pan.
Bake 275 degrees about 45 minutes or one hour. (Test with toothpick) Helen says 350 degrees about one hour or 45 minutes in long Pyrex dish.
Aggie and Helen say they press center down with a spoon so it will not be higher and take longer to bake.
* In aluminum pan, 350 degrees for 45 minutes test with toothpick for doneness ­method used by my mom and myself.
Sauce:
Mix: 2 cups brown sugar and 2 tablespoons (heaping) corn starch or flour
Add 2 cups boiling water cook and stir until thickened. Add vanilla and butter.
To serve, cut squares of pudding and pour sauce over the top. Serve warm.