Greater Midwest Foodways Alliance
FAMILY HEIRLOOM RECIPES
Picnics and Family Reunions
Illinois State Fair
August 14, 2015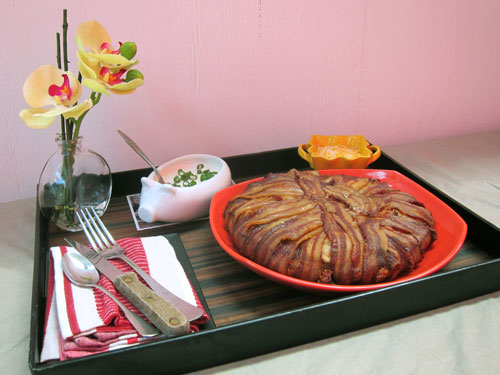 (Image by Peter Engler)
First Prize:
There is a Season for Everything!
Dennis Kirby, Champaign, Illinois
As an avid animal lover and growing up on a farm in the South, the Fall always troubled me. During the Spring time, we would have calves chicks, ducklings, piglets, puppies, and kittens … on the farm. Spring was my favorite time of year. I would always be the one that would gravitate to the runts of the litter and try to save them so they weren't left to die by the mother or culled by my father. It was a reality that runts seldom lived, but I always wanted to try.
Coming from a farming community, the reality was that, throughout the year, animals would have to be slaughtered for the family to sell and to eat. That realization didn't make things any easier for me. We always had spring pigs to sell to other farmers who didn't raise hogs. I would always "try" to hide the runt of the litter because I wanted to hand raise the runts myself. I knew deep in my heart that eventually the piglet would grow into a full-sized hog and would either be slaughtered or have to be sold. But that didn't keep me from trying my best to hide the little thing.
In Spring of 1969, I was still young and fairly naIve around the farm. I am now 53 years old and my memory of this Spring is still clear in my head. Our sow had given birth to 14 piglets that spring. There happened to be two runts of that litter. My Dad explained to me that they needed to be culled because they probably wouldn't live anyways.Being a stubborn little man, I begged him to let me try and bottle feed them. One was a male and one was a female. I was only 8 or 9 at the time. I got permission from my school teacher to bring the piglets in to class each day so I could bottle feed them. She thought it was a great idea to have the other students help bottle feed them and learn about them as the piglets grew. By the end of the school year, both of the piglets had survived with feedings every 2-3 hours around the clock while they were little. They were big enough to sell.
I did not realize that my dad had decided to keep the male or why. We kept the male and sold the female for $25.00. At that time $25.00 was a lot of money for us to have plus I knew that she would be used for breeding. I had no idea what was in store for Bart. I kept feeding Bart and he continued to get fatter.
October rolled around and my Father and Grandfather, Grandmother, and Mom sat me down and we had a long heart to heart talk. They explained that the first frost would soon be coming and that they were going to have to slaughter Bart. We couldn't afford to keep him over the winter. Feed was expensive even then. It had to be done. I was heart broken. I ran from the room yelling and screaming absurdities that I knew better to even entertain in my head much less let them come out of my mouth. I cried for two weeks. School was back in session when the first frost hit that year. I knew that weekend would be Bart's last day. I asked a neighbor friend of mine if! could spend the weekend with them because I didn't want to be at the house when it happened.
When I got home late Sunday (I didn't go to Church that Sunday morning because I was even mad at God, or at least I thought I was then). The dinner table was set and everyone was silent. You could hear the crickets underneath the porch outside chirping away, nothing but silence. Mom had made my favorite for dinner, fried chicken and potato salad. I just sat there with tears welling up in my eyes. I didn't say a word. I knew I would be in for a thrashing if! let out another round of "smart mouth" to my Mom and Dad. I didn't eat much that night. When it was time for me and my brother to go to bed, Daddy said, "I will be up in a few minutes to talk to you." My brother slept on the couch that night. I knew I was going to get it for not eating my dinner and for not going to Church that day. I waited in bed. I had put on two pair of pajamas and extra socks in preparation for my punishment.
Daddy didn't even knock on the door. He walked right on in. He sat down on the edge of the bed. Neither of us said anything for about 5 minutes. Finally, he broke the silence. "You know, Son, we raise animals to sell and to have food for the winter. We have to make ends meet. You know that, right?" I told my Dad, "Yeah, I understand but I don't have to like it or watch it when it happens."
"No you don't," he responded sternly. He said to me, in a low voice "There is a season for everything, Son". "There is a time to be born and a time to die". "A time to reap, and a time to sow." He then said something that I have told my own Son many times, "There is even a time, Son, to be angry and a time to show compassion and understanding." He got up and walked out of the room. I didn't understand his words at that time, but I felt at peace with everything right then.
The next morning I came down to breakfast and there was a bacon, potato, cheese casserole on the table for breakfast. I knew in my heart that it was Bart that was on the table. I couldn't eat. I excused myself from the table and said I was going on to school. Mom looked at me and said, "Dennis, your Dad wants your help up at the hog shed." I stared and said, "Alright." I walked slowly to the hog shed and my Dad was waiting with hog slop and water. He looked at me and said that he had hurt his back slaughtering the hogs on Saturday when he slipped and fell (my Dad never slipped and fell, but I didn't say anything). I grabbed the feed and water and walked on up the hill to the hog pen. There was Bart! He wasn't dead. I didn't know then that Dad had used part of the money we had gotten for the sow and some of the money he and Mom had saved up for Christmas presents and bought a hog from another farmer to slaughter. My Dad had spared Bart.
Dad had walked up the hill behind me and was standing there smiling at me. "You realize this is your Christmas present and any piglets that he sires will be sold in the Spring to pay for the hog we bought to kill." I knew he was right, but my Dad had shown compassion and understanding to me, FOR ME. I ran to him and gave him a huge hug and thanked him. Even though I knew in my heart this would never happen again, I understood that sometimes we have to show understanding and compassion for others.
He said, "Come on, let's get back to the house. Your Mom made us breakfast, and we have to show her we like it and appreciate her getting up at 3 a.m. to fix it for us." That was the last time my Dad held my hand, but I remember it as well today as if it happened yesterday. That was the best Bacon, Potato, Cheese casserole I had ever eaten. I can't make it as well as my Mom, but give it a try. It's simple and cheesy and loaded with bacon and potatoes. Be prepared to spend 2 and 1/2 hours for it to bake, but it' s well worth the wait. It's great hot or cold.
Even though this recipe has been around in our family for many years it has recently resurfaced a fan favorite for family reunions.
First Prize:
Bacon, Potato, Cheese Casserole
Dennis Kirby, Champaign, Illinois
1 1/2 lbs of lean bacon
2 lbs of potatoes, skin on
1 large onion
1 1/2 lbs of Colby Jack Cheese
1/4 teaspoon salt each layer
1/4 teaspoon pepper each layer
Use a frying pan that can be put into a 350 degree oven.
Line the bottom and side of the pan with parchment paper, or use 2 tablespoon lard to prevent from sticking
Starting at the very center of the pan, line bacon strips side by side, alternating a little forward and a little back to prevent overlapping on the bottom of the pan.
Once this is done, thinly slice potatoes, and onions (ONLY ONE LAYER OF ONIONS) layering them on top of the bacon. Add a layer of cheese and then season with salt and pepper. Repeat the process (potatoes, cheese, salt and pepper) until you have about 4 to 6 layers.
Taking your time, fold the bacon over the top of the potatoes. Place a heavy lid on top of the casserole to prevent bacon from curling. Bake in a preheated 350 degree oven for about 2 1/2 hours. Be sure to place a drip pan beneath the skillet to prevent bacon grease from splattering everywhere.
Remove from oven and drain as much grease as possible. Turn pan over onto a large plate to release casserole and remove parchment if used. Use a second plate to turn casserole over again. Sprinkle with a little more cheese. Cut in pie slices and serve warm as a main dish or allow to cool for a side dish! Top with sour cream, extra shredded cheese and green onions if desired! Enjoy! This dish has been around for many years and has only just recently resurfaced as a popular family gathering dish.