Greater Midwest Foodways Alliance
FAMILY HEIRLOOM RECIPES
Picnics and Family Reunions
Illinois State Fair
August 8, 2014
First Prize Winner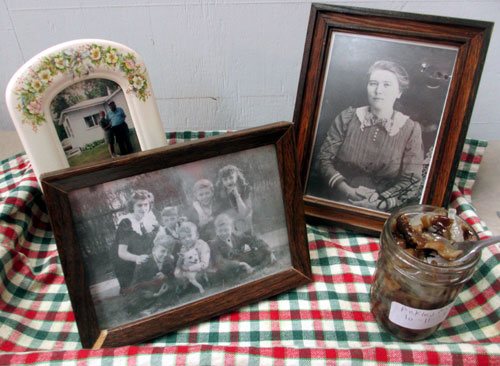 (Image by Catherine Lambrecht)
First Prize:
Houby
Linda Cifuentes, Mahomet, Illinois
As far back as I can remember (3 years old); these mushrooms were always on my Babi's (grandmother in Czech) holiday tables- Thanksgivingl Christmas and Easter. I often wondered why we didn't have them every time we got together at her house. Now after making this coveted recipe one fall weekend in October with my Uncle Joe and my sister Cindy I now know why; labor intensive and low yield. But before I get into that let me go back to the beginning and give you a little history.
My Babi; Agnes Chudaba Holas came to this country with her sister Marie and their husbands Anton (my Deda grandfather in Czech) and Cyril Holas. Yes you got it two sisters married two brothers. In 1898 Agnes was born near Belgrade which actually became part of Yugoslavia but she and my Deda spoke Czech. Back then the area was part of the Austreo-Hungarian Empire. My Babi and Deda were married when they came to this country in 1920 after the end of World War 1.
They entered through Ellis Island and along with Marie and Cyril and many other Czechs they settled in Berwyn, Illinois. This was a large Czech community where most of the businesses shopkeepers spoke Czech. The Couple settled in and started they family which soon grew to seven: Bessie, Agnes, Anton (my Dad) Frank, John, Joseph and Robert. My Deda did masonry work and my Babi had the tough task of handling the Holas brood which she did with both love and an iron hand. And with five boys I'm told her task was not easy.
Babi pretty much made everything from scratch mostly out of necessity because there were so many mouths to feed and therefor it was cheaper. She was an Excellent cook and as most cooks in that era did not have a recipe-just picked up ingredients by the handful and through them in. She canned anything she could but of all the things she canned the mushrooms was the most special in the family because it was truly a family affair. Before you could can them you had to hunt them so every last child was manned with a bag and often times a stick and set out to the local woods or forest preserve to fill their bags. It was a bit of hard work but since they were all together it became a fun family outing that could last for hours depending on how many mushrooms the boss (Babi) wanted.
Before the tedious job of cleaning the mushrooms commenced, which also everyone participated, each mushroom was inspected by Babi to make sure it was ok and not poisonous. Her children would all ask how she knew they were ok and I was told she always answered, "Because I Know!"
When I was a little girl my parents tried a couple of times to take my brothers, sister and out to the local forest preserve on a mushroom hunting expedition but we didn't even find enough to make a half pint so my dad gave up and left the task to the experts. It was fun though while it lasted because we were all together hiking around the woods.
My Uncles John, Joe and Bob remained bachelors and eventually moved to a wooded house on a lake in north western Wisconsin. You know what woods means; MUSHROOMS! Even in her later years (she lived to be 90) Babi was still running the mushroom show. My Uncles would drive down to Berwyn and pick her up and bring her to the north. They would pick the mushrooms and she still inspected every last one. Just like when they were little they all cleaned the mushrooms and "put them up" together.
The word Houby is Czech for mushroom and since the mushroom was the object of a hunting tradition and a significant part of the Czech diet the Houby Parade was born in Berwyn and Cicero in 1968 until present. It was established to honor the the families who settled in this area and continued the time honored tradition.
Now sadly my Uncle Joe is the last survivor of the Holas children but he has continued with the tradition of hunting mushrooms and canning them by himself in true Babi fashion. Last year I guess he thought it was time he better pass the tradition on so he called my sister Cindy and me mid October. Now, you have to understand that when he called he said you need to come with in the next two weeks or the mushrooms will be gone so Cindy and I juggled our work schedules and away we went.
We drove 400 miles north to Wisconsin and no sooner pulled into the driveway and Uncle Joe opened the doors and shoved bags in our hands and directed us to the next -door neighbors lawn which was covered with mushrooms. We just stared at him and he said, "start picking". So we broke the mushrooms off at the base from the ground and started filling our bags. Of course Me and Cindy asked the million dollar question; " Uncle Joe, How do you know they are not poisonous?" And of course we got the million dollar answer was "Because I know."
After two hours and many full bags of mushrooms Uncle Joe deemed the hunting session over. I must say me and Cindy did have fun under the watchful eye of Uncle Joe. Now the real work begins. We all sat down at the newspaper-covered table and began to clean each and every mushroom by throwing the debri on the floor. I can't even imagine what a mess this was when my dad and uncle were little and there were seven of them plus Babi. This task took us several hours and Uncle Joe inspected each mushroom so "quality control" was maintained. The clean mushrooms were thrown into a large cast iron pot that was then filled with water and placed in the refrigerator overnight. The next day the mushrooms were rinsed and then placed back in the refrigerator. We did not start cooking them until Sunday afternoon. After all that we got 5 pints and 2 half pints-it took us all weekend but it was one of the best weekend I have spent with my Uncle Joe (who has always been my favorite Uncle!)
I think the mushrooms are an acquired taste-I like them I don't love them. This past Thanksgiving at my nephew's house my sister and I proudly put out a pint of "our" mushrooms and announced to everyone they should try them. My brothers who both love the mushrooms and used to fight over them when we were little wouldn't touch them until we finally told them that they were Uncle Joe supervised and approved.
Uncle Joe is battling cancer but so far has survived 2 1/2 years we already have a date set for mid October for another round of mushroom hunting and canning. This time we are bringing my 4 year old great-niece Carolyn to get another generation indoctrinated in the tradition. It is on this trip I have to learn the answer to that all important question; how do you know their ok? I NEED TO KNOW!!!
These mushrooms would go great popped in a picnic basket because the whole idea of them like picnics is family oriented. I think they would go great with sandwiches or cold fried chicken. And while you are picnicking you could discuss mushroom hunting strategies.
P.S. I forgot to add this is how the mushrooms were always served – right in the jar with a fork; never in a bowl!
First Prize:
Houby
Linda Cifuentes, Mahomet, Illinois
MUSHROOMS HOUBY
1-PICK MUSHROOMS IN THE GRASS & WOODS
2-CLEAN All MUSHROOMS
3-WASH MUSHROOMS IN COLD WATER
4-SALT WASHED MUSHROOMS & PUT IN REFRIGERATOR OVER NIGHT
5-RELAX AND WATCH A MOVIE
6 – NEXT DAY TAKE OUT OF REFRIGERATOR AND WASH THEM REAL GOOD
7-STRAIN THEM IN A COLANDER & PUT IN POT ON THE STOVE POUR WATER ON TOP OF MUSHROOMS 8-COOK MUSHROOMS UNTil DONE (SOME PEOPLE SAVE WATER FOR SOUP)
9 – STRAIN THEM UNDER COLD WATER
10- PUT STRAINED MUSHROOMS INTO LARGE POT
11- CUT UP ONION TO HAVE ABOUT THE SAME AS COOKED MUSHROOMS
12- MIX IN ONIONS WITH COOKED MUSHROOMS TO START SET-UP TO JAR IN PT. BOTTLES
13-WASH BOTTLES & PLACE IN OVEN SET OVEN AT 225 degrees
14-PUT POT ON STOVE AND PUT 1 PINT OF VINEGAR INTO POT AND BRING TO A BOIL STIRRING CONSTANTLY
15-MIX 3/4 PT OF SUGAR (MORE or LESS TO YOUR TASTE) INTO BOILING VINEGAR MIX STIRRING CONSTANTLY
16- TAKE 1 PT. (A LITTLE MORE) MUSHROOM & ONION MIX PUT IN POT OF BOILING SUGAR & VINEGAR LET BOIL FOR A FEW MINUTES STIRRING CONSTANTLY
17-WHEN MIX HAS BEEN BOILING FOR A FEW MINUTES BRING BOTTLE OUT OF THE OVEN AND PUT INTO ANOTHER POT WITH CLOTH ON BOTTOM
18-SPOON MUSHROOMS & ONION MIX INTO PINT BOTTLE
19- THEN FILL PINT BOTTLE WITH LIQUID MIXTURE TO TOP
20- PUT LID & RING ON BOTTLE AND TIGHTEN RING
21-TURN BOTTLE OVER & PLACE ON TOWEL
22-TAKE REMAINING MIXTURE & POUR INTO BOWL
23- START ALL OVER AGAIN