Greater Midwest Foodways Alliance
FAMILY HEIRLOOM RECIPES
Picnics and Family Reunions
Iowa State Fair
August 15, 2014
First Prize Winner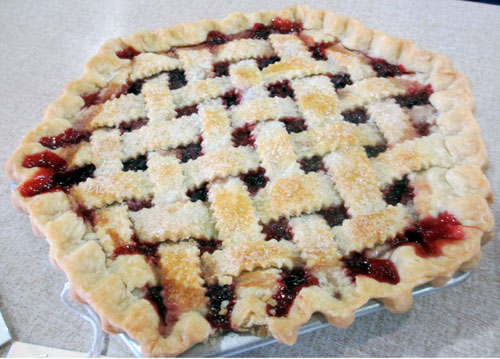 (Image by Catherine Lambrecht)
First Prize:
Grandma's Cherry Pie
Shelby McCreedy, Atlantic, Iowa
A Childhood of Memories
My grandparents moved to the family farm in the early 1940′ s after losing everything in the depression. I remember my Grandma talking about how the farm provided everything they needed to survive, and that I, as a kid, needed to learn how to use all of the resources available! Every time I asked to go to town to eat, my Grandma reminded me that if they didn't raise it or grow it on the farm, I didn't need to eat it. (I thought this was child abuse!)
I always preferred to work outside with the farm animals and did my best to stay out of the kitchen! 1 loved that Grandma would always have food on the table mid-morning and mid-­afternoon for break, (it always just magically appeared), and at least once a week, that coffee time treat would be pie! 1 always looked forward to whatever pie Grandma conjured up in the kitchen!
When I got older, (early teens) Grandma decided it was time I started to help in the kitchen, and she asked me what I wanted to learn to make. My first (and only) choice was cherry pie!! I remember Grandma telling me that was a good place to start since the cherries were ripe, so she sent me outside to pick cherries off the tree. (I knew the pie of the week was always whatever was ripe at the time, and was just grateful I didn't have to head to the raspberry patch!) Of course, I learned the hard way that picking cherries was the easy part, and that they didn't come off the tree already pitted!
As long as I can remember, I never saw Grandma look at a cookbook. Her mind was the treasure trove of all things delicious, and I asked how she remembered everything. Her response was simple … ."I have been making this stuff all of my life, so it becomes routine." I had watched Grandma cook for years and it was always just a touch of this and a bit of that. I needed a bit more direction, so I asked for a recipe. Grandma rooted around in a comer cupboard and came out with an old tattered cookbook. The recipe for her cherry pie was written in the margins of this late 1930's church cookbook that no longer had a back cover. Not exactly a Betty Crocker 'How To', book, but at least it was something to follow!
I asked Grandma why it was written in this particular book and she said my Mom had asked her to write down some of her recipes, so one day she decided to do it and this was the only thing she could find. As I looked through the old book, I found recipes for more of my favorite things … fried chicken, dinner rolls, and cinnamon rolls! It was like a maze to follow as Grandma had written in margins, up and down sides of pages, upside down, and not all of the directions were complete. Grandma explained she got distracted so a few of them weren't quite finished. A little bit of translation was needed for her Cherry Pie scribblings, but once she explained to me what some of the jibberish meant, I was ready to get cooking!!
Grandma told me that the secrets to good food are really quite simple. She rendered lard from hogs they raised on the farm, and her instructions were quite clear when it came to what made 'good' lard. (I had to question if there was such a thing as 'good' lard … because I had never viewed lard as good!) Grandma responded to my questions by explaining pig fat from around the kidneys and liver made the best lard, and to NEVER buy it pre-packaged from a grocery store. Grandma also emphasized picking your fruit just before you are going to use it. Once picked, she said to either use it, freeze it, or preserve it because there was no need to have it sit around in the refrigerator because, (in her words), it would never get better with age! Grandma's final words of advice were to keep it simple … no need to be fancy and put more things in the pie than was necessary. "Let the fruit do the work, and don't mess it up!" Grandma constantly reminded me the basics were good enough. "Just some fruit, sugar, and a little thickening and throw it in" she told me. That advice is something I still follow today!
Grandma had been making that pie for over 50 years by the time she taught me how to make it, and it was one of the first pies I showed my daughter how to make (after she experienced picking and pitting a gallon of cherries!).
After my Grandma passed away, I was lucky enough to find that cookbook in her cupboard. Today, I keep it in my cedar chest with all of the blankets she made for me, and cannot think of anything I cherish more! I sometimes look at it just so I can be reminded that 'fast and easy' isn't the best thing for me or my family.
One of the first trees I planted when we moved to our acreage 16 years ago was a cherry tree. I wanted to make sure I could continue to make her cherry pie exactly the way I was taught. It is one of my favorite pies to make, and every time I make it, I remember that day in the kitchen and all of Grandma's golden advice!
(I used Grandma's pie pan to make this for the contest.  She preferred metal to glass, and used this pie pan for many years.)
First Prize:
Grandma's Cherry Pie
Shelby McCreedy, Atlantic, Iowa
CRUST:
2 C. flour
1 tsp. salt
1 C. good quality lard
1 egg
4-5 TBSP Ice Water
PIE FILLING:
4 C. Tart Pie Cherries
1/4 C. tapioca
1 1/3 C. sugar
1 tsp. lemon juice
2 T. butter
To make crust, combine flour and salt in a bowl. Cut in lard until crumbles form. Add egg and water and mix until a ball forms. Chill dough. Remove and cut dough in half, reserving one half for top crust. Roll out crust and place in bottom of 9-inch pie plate. Trim edges.
In bowl, mix cherries and lemon juice. In separate bowl, combine sugar and tapioca. Combine with cherries, mixing gently to coat.
Dot with butter.
Roll out remaining crust and place over top of pie. Vent top and crimp edges. Brush top of crust with milk and sprinkle with sugar.
Bake in moderate (350 degrees) Oven for 1 hour. Cool before serving.