Greater Midwest Foodways Alliance
FAMILY HEIRLOOM RECIPES
Iowa State Fair
August 11, 2013
First Prize Winner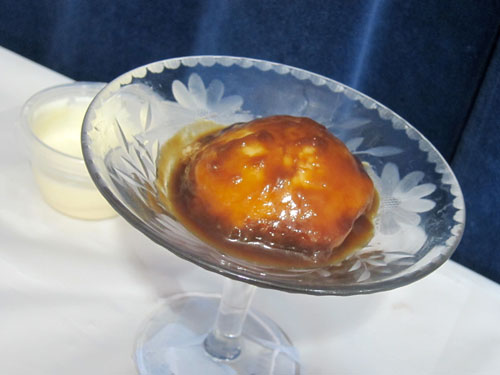 (Image by Peter Engler)
First Prize:
Caramel Dessert Dumplings
Jacqueline Wittrock Riekena, West Des Moines, Iowa
My Grandmother Teresa Smith Wittrock got this recipe from her mom Mary Smith who was married to John Smith.
My Grandmother started making the Caramel Dessert Dumplings when she was young and all ten of her children remember her making these dumplings on special occasions starting in 1932 and her Mom received the recipe from her Mom many years ago in the late 1890's.
My Grandmother Teresa Smith married my Grandpa John Henry Wittrock in Okarche, Oklahoma. They had ten beautiful children and were married 60 years. Their marriage was recognized by Pope John Paul II with a certificate from the Vatican.
Here are the 10 children who are all living: Ruth Knecht (Oklahoma), Edna Elmenhorst (Kansas), Harold Wittrock (Oklahoma), Joan Wittrock(Oklahoma), Henry Wittrock(my Dad who resides on the original Wittrock Homestead in Okarche), Raymond Wittrock(Oklahoma), Mark Wittrock (Oklahoma), Irene Garrett (Oklahoma), Clare Scott Borelli (Oklahoma) & Anita Webb (Ohio). Okarche stands for OK for Oklahoma, AR for Arapaho & CHE for Cheyenne. It is located in Kingfisher County, Northwest of Oklahoma City approximately 20 miles.
The oldest child is Edna who is now 81 years old and the youngest is Anita who is now 57 years old.
My Grandmother made this recipe often while rearing her children as it was so easy to make. It was like having dessert all of the time. Everyone of her children remember having this dessert once a week or more. There were never any left-overs. The kids all liked this so well because it was so easy and quick to make, just don't open the lid! This dessert was also served on special occasions, church functions, card parties and you could smell throughout the house!
Some of the comments received about the recipe:
1) The recipe was so good!
2) It smells so good!
3) They can't believe it is so delicious while only using those ingredients.
When my Grandmother Teresa passed away, all ten of the kids made roasters of these Dessert Dumplings for the funeral dinner. Enough to serve 300 people and everyone raved about the Dumplings.
http://www.our-kin.com/Wittrock/ – Wittrock Family Home Page
On the John & Teresa branch of the family, there are three generations of relatives that span 35 states.
We are all proud of our rich family heritage and strong family ties and the great appreciation for good food.
In 2011 at the Iowa State Fair, I entered the Wittrock Family Cookbook that took several years to compile with recipes from my Grandmother, the Aunts, Uncles, cousins and the newest generation.
The Wittrock Family Cookbook placed first in My Family Recipe Book contest. I was thrilled, news spread like a wild fire. This Iowa State contest made the news in five newspapers across the state of Oklahoma.
The Caramel Dessert Dumplings recipe is in this cookbook on page #435. The recipe is the original recipe and has not been modified and is still made today for the current generation to enjoy!
I included a photo of the Cookbook and the Dedication to the cookbook as it says so much about the Wittrock Family & my Grandparents who are now in Heaven!
First Prize:
Caramel Dessert Dumplings
Jacqueline Wittrock Riekena, West Des Moines, Iowa
1/4 c. plus 2 T. butter, divided
1 1/2 c. brown sugar, firmly packed
1/2 tsp. salt, divided
1 1/2 c. water
1 1/2 c. flour
1 1/2 tsp. baking powder
1/3 c. sugar
2/3 c. milk
1/2 tsp. vanilla
In a large saucepan, over medium heat, mix 2 T. butter, brown sugar, 1/4 tsp. salt and water, stirring occasionally.  In a large bowl, sift together flour, baking powder, sugar and 1/4 tsp salt.  Cut in 1/4 c. butter until mixture is fine.  Combine milk and vanilla; gradually add to flour mixture.  Stir only until blended.  When sauce is boiling, drop dumplings by teaspoons into sauce.  Cover with lid and cooker over low heat for 20 minutes.  "DO NOT" lift lid during the cooking period.  Remove from heat and remove lid.  Cool for 5-10 minutes.  Spoon into dessert dishes and distribute the sauce over dumplings.  Serve immediately while still warm.  You can serve with a dollop of Cool Whip.  These can also be slightly warmed in the microwave prior to serving.
Note:  These dumplings are all of the siblings' very favorite dessert, also the grandchildren's favoties!  Trying, you'll like (I mean love) it!!
Premiums sponsored in partnership with Feedstuffs FoodLink.com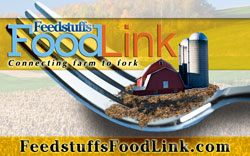 Pampered Chef is sponsoring additional prizes for our winners